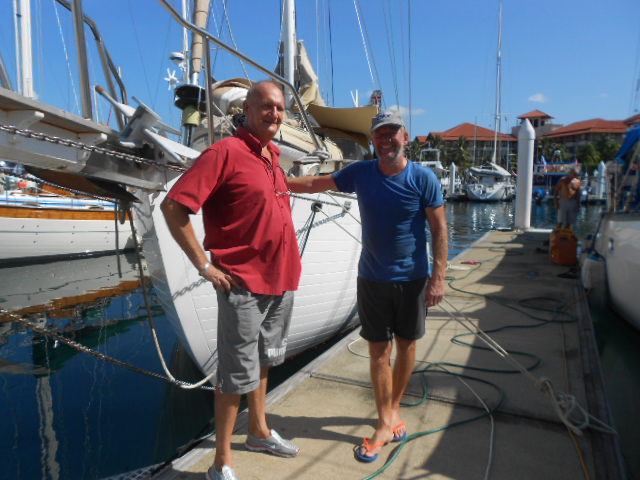 "The 'Sail Malaysia' Rally is now playing out and yachts in Kota Kinabalu in northern Borneo are ready to move on", reports Captain Jean-Francois Cormerais, heading up Asia Pacific Superyachts Borneo.
The three-to-four month racing event is an annual big draw in Borneo for yachties, with 47 sailing yachts from 10 countries entering the 8th Rally East Malaysia. Boats have now finished rallying from Kota Kinabalu (14-17 July) and will continue to the next start (23-25 July) from Kudat Marina; then to Turtle Islands, Sabah (27 July). They will soon journey around the North of Borneo (Kudat), then Sandakan and finally Tawau; where they will split in two routes (Indonesia and North Pacific).
Boats began arriving in Kota Kinabalu over a week-long period in advance of the Rally and Captain JF was there to greet old friends and meet new registrants, saying some early birds went off to explore inland attractions, as otherwise participants are too busy resupplying and preparing for the next leg which will bring them to Tawau (border between Malaysia and Indonesia on the east coast of Borneo).
Checking in with many of the vessels, Capt. JF reports: "There was some talk about the presence of an escort from the Malaysia Navy for part of this leg. Some yachts were not sure if they wanted to follow a convoy, opting instead to discover a bit more of the surrounding Sabah waters". He added, "The mood was quite relaxed as all were aware there had been no incidents with a sailing yacht in Malaysian Borneo water for the last few decades. However, there are some areas close by which are known to be less safe for yachts. Every year many yachts when sailing through this area are well aware of the conflicts in Mindanao in the South Philippines; thus avoid sailing in this particular area".
Following are some notes of Rally participants and organisers collected by Captain Jean-Francois in Borneo:
The S/Y Tiki family from the UK will sail towards Komodo Island for some diving activity, then sail back towards Thailand, in order to be in the country towards the end of the year. They'll leave their yacht in a Phuket marina and explore surrounding countries by land.
The S/Y Anthem is from the USA and the owners will sail towards Raja Ampat for dive sessions, leaving their yacht in Indonesia afterwards to return home to the USA.
The S/Y Ambrosia from Australia will follow the group until Tawau; then sail back home to the east coast of Australia.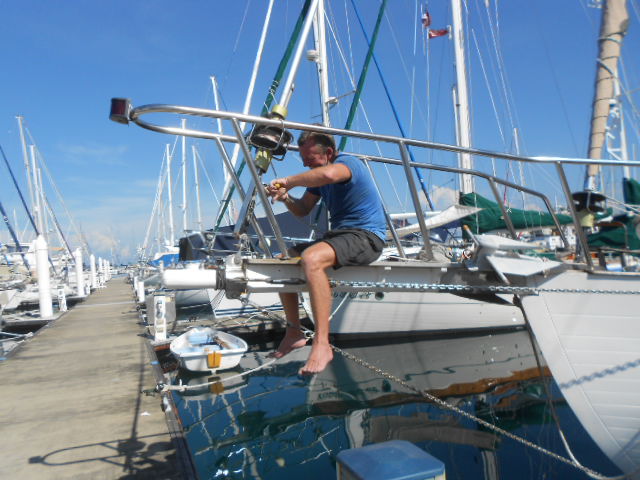 Dato Seri Tengku Zainal Adlin, Chairman of Sabah Park and one of the event's main sponsors, remarked he was 'very pleased with the great number of yachts taking part in the rally this year'; reminding participants that for many years each of the islands along the East coast of Sabah has been developing attractions they can enjoy.
Mr Tungku Adlin is an enthusiastic sailor and told the group he hopes 'yachts will soon be discovering that Borneo is one of the best kept secret sailing grounds'. He hopes Rally sailors will help word spread of Sabah's beautiful long deserted beaches, clear water and stunning diving spots – all this and a land that is not only "below the wind" (under the typhoon belt) but rich in diversity as well as safe.
Mr Sazli Kamal Basha, Managing Director of the 'Sail Malaysia event', said it is a challenge to keep some 50 yachts together in order to create the convoy to be escorted by the Malaysian Navy escort. At the 'get together' meeting July 13 at Sutera Harbour, Mr Sazli stated, "In order to avoid yachts sailing on their own, yet still wanting to be under the Malaysian Navy (like last year), the Captains must make a decision in Kudat if they want to follow as a group (convoy) or not", adding, "The yachts which went sailing on their own last year did not encounter any problems, however, doing so did create difficulties for the navy as they had to look after them".
Mr Sazli also said he was pleased with the greater number of participants this year and the good mood among the crew. With 8 editions of this Rally under his belt he was confident that all the yachts will enjoy a peaceful passage and there'll be many wonderful memories from the different anchorages provided (releasing of turtles at night, cultural dances, wildlife and more).
A marine consultant of 15 years' sail and motor yachting experience, sailing three times around the world, Captain Jean-Francois is happy to share his knowledge and can be contacted on the Borneo Region page. He reminds Captains that most areas of Borneo are now deemed safe once again for vessels, based on the new JWC insurance underwriter's committee issuance of the updated JWLA 022 bulletin as of Dec. 10, 2015. "Vessels no longer need to seek special approval from insurance underwriters to enter, operate and stopover at any port listed in these areas. As well, they no longer must pay additional and costly premiums for this purpose".