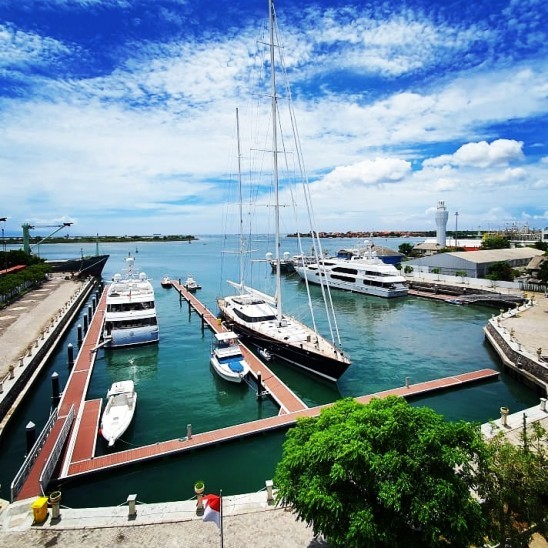 A new marina, commonly referred to as the Benoa Marina, has been built by a subsidiary of the government docking company, PPI Marina (Pelindo Property Investments), a subsidiary of Pelindo, the government harbour company. The marina concept has been in place for years and now has been renovated, opening in January of 2020.
Indonesia's first international standard marina, Benoa Marina in Bali provides good quality, sheltered and clean dock space with good quality fuel, water, garbage disposal and even shore power – all available in a secure and protected environment. Looking toward new beginnings after Covid-19 in cruising Southeast Asia destinations, news of the Benoa Marina in Bali is welcome news.
"The new marina has space for 3×90 meters in alongside positions and non-potable water can be supplied", explains Thomas Taatjes of Asia Pacific Superyachts in Bali: "Shore power is via Genset rental and we (APS) have a Genset we can use for our clients and also water treatment facilities to make the dock water potable", he added.
"The floating pontoons are top quality and easily accessed by ramps, making provisioning and spare part deliveries simple and convenient. The lines are secured using the pilings which are spaced at 10m and have a diameter of 90cm, so straps and shackles are required. Transport can be arranged from a variety of sources", explains Taatjes.
Connected to the airport by a flyover, it is a fast pick up and drop off at the boat for guests and the perfect starting point for cruising once Indonesia is open to arrivals. On down-time, all the hotspots of Bali are within reach and guests and crew will enjoy everything on offer inside and outside the marina.
Captain Jimmy Blee, the founder of APS Indonesia, comments: "APS staff in Bali and Raja Ampat are working from home and we are always on call for anyone to contact us should any support, advice or solace be needed. We will be sending regular updates to all our friends and clients should border closing change or conditions in Indonesia change over and above what is widely reported". The skipper added, "These uncertain days require strength and hope and profound humanity for others. We look forward to seeing you all at the back end of this crisis".