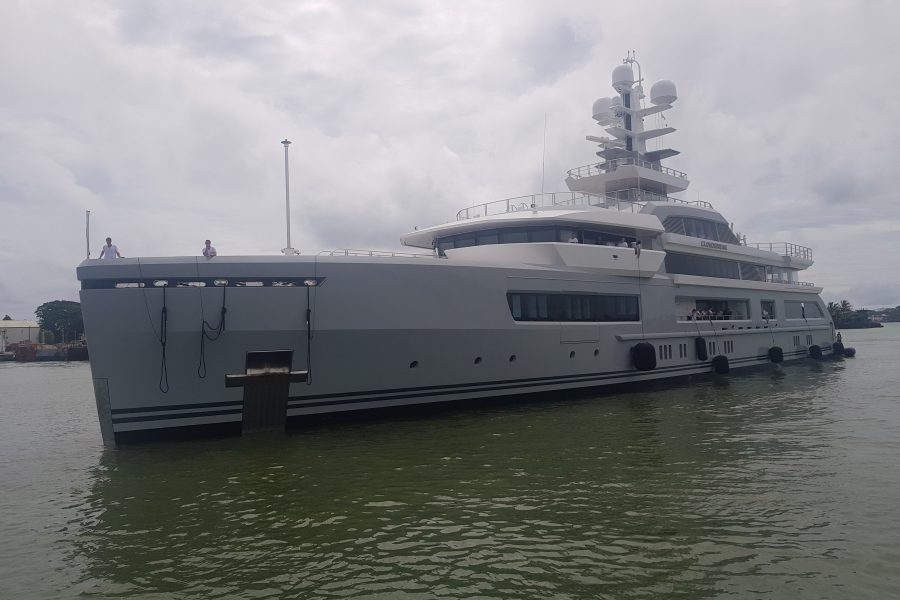 What happens when a superyacht in South East Asia has to make massive changes in a journey due to the worldwide Coronavirus Pandemic?
A tale of what happened to a superyacht voyage as the Coronavirus pandemic hit Thailand is related by the captain of the 75.28m expedition yacht, M.Y. Cloudbreak.
A standout superyacht, built for thrilling adventure and exploration in the most remote places around the globe, it became necessary to abruptly change the voyage's schedule when in Phuket. The custom-built vessel began her journey with some great cruising and the support they had become accustomed to from Gordon Fernandes and the Asia Pacific Superyachts (APS) team in Phuket, Thailand.
The journey was drastically changed with the rapid advent of Covid-19 in Thailand and it became necessary to cut short their season, with an early departure from Phuket as a result of these difficult times.
Though the Captain and Crew found themselves spending several weeks during the pandemic in Thailand, the experience became a positive one said the Captain in a letter to Fernandes: "We are actually all quite pleased that we relocated to there and proud that we did 'our lockdown' with you guys in Phuket."
Captain Jeremey went on to remark, "I think it is safe to say that without your assistance we would not be here but still be berthed in Phuket. I was most impressed that you had taken my request for assistance very seriously and to the highest levels in local and national government and did all you could to assist in us being able to depart Thailand when we did."
"It was challenging and not something we could have achieved alone. We are exceptionally grateful for your efforts. We appreciate all the support from cruising, to logistics, to lockdown and hopefully see you back in Phuket winter after next. On behalf of the owner and crew on Cloudbreak, THANK YOU!"
When asked about Phuket's attraction to visiting superyachts, Fernandes commented, "The Surin and Similan Islands in Thailand are great for their beauty and in the Similan Islands you have world class diving with visibility of 30+ metres".
"In addition to the beauty of the islands, Thailand and nearby Myanmar are very safe. You never see muggings and the rate of street crime is extremely low. The locals are extremely friendly and welcoming, hence the 'Thai Smile'. In the Phuket area you can have the best of both worlds, islands all to yourself or in non-Covid-19 times, a vibrant nightlife and unique culture as well."
At the backend of the pandemic, yachts returning can select amongst Phuket's four marinas. The region is building more marinas to berth superyachts, such as one of the marinas in Phuket that can berth a 130M yacht, noted Fernandes: "We have the marinas and the cruising areas but not enough haul out facilities. The region needs more haul out facilities for superyachts. Some projects have started to address this so hopefully Phuket will have more haul out facilities in the future for visiting superyachts".
The airports and infrastructure for owners' visits are already in place, with airports which can handle large private planes and the upgraded international airport offering numerous commercial flights. APS co-founder Gordon Fernandes is happy answer any questions and welcomes visitors to visit the website displaying the network of APS destination agencies in Asia.