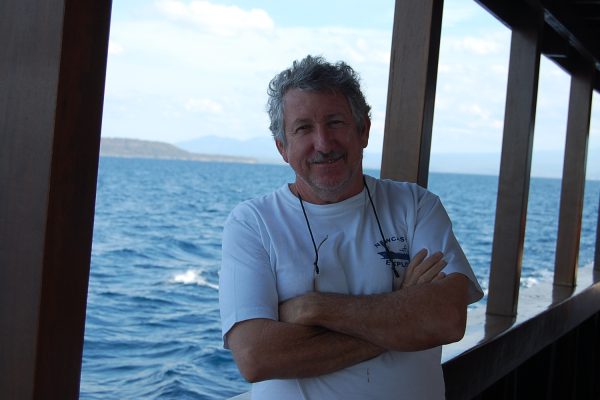 Part 1 of 3 Part story following Capt Jimmy Blee on a Boat Delivery – Cairns to Bali
I could never have imagined nor be prepared for while lounging in my home in Cairns, Australia in May, the journey I was about to embark on.
Queensland, and in particular North Queensland, has been so well insulated from the direct effects of Covid-19 ravaging the world that when I received confirmation a vessel Owner wanted me to deliver his newly purchased sailing catamaran, my thoughts of flying to complete this task shifted into a mindset imprinted from 40 years of pumping on planes to faraway destinations.
This time it would be from Bali, Indonesia to Southport on the Gold Coast, Australia. I thought, "Yes, though surely there will be some adjustments given the condition of the world." However, essentially it was exactly just that… adjustments. But nothing could have prepared me for the surreal eight days to get from Cairns to Bali, a journey that would have taken less than 24 hours pre-Covid.
I had already flown domestically in Australia in 2021 to attend a superyacht conference and a boat show, so I was aware the flight from Cairns to Brisbane would be reflective of the "new" normal: mask to be worn in the airport and on the plane, individual space in queues, timely hand sanitizing and limited touching of any surface including public hand rails, etc .
This lulled me into a false sense of normal, as in fact domestic airports were as busy and as bustling as pre-Covid. Thus it came as quite the shock when I proceeded to the International terminal some six hours before I was scheduled to board for Singapore. I walked out of the lift for the first flight leg of my journey to Bali, expecting to see the huge expanse of the departure hall overflowing with noise, bodies and chaos. Instead, I saw three people and there was total silence.
It struck me as if I had arrived on a vacant movie set, a huge space just sitting there with limited lighting, silence and no movement from others. The imprint in my brain was trying to match the hundreds of times I had been in airport departures, preparing for the worst type of self-centred behaviour with queuing, pushing in lines, trying to find gates and struggling with luggage.
I looked up at the barely lit departure board to see three outgoing flights from Brisbane for the day, with mine at 23.00. I needed to find a place to sit down with hopefully access to a power outlet. The silence and isolation in the great hall for next two hours was only interrupted by the same security guy "patrolling" and one or two airport staff wandering around casually, no doubt waiting for their airline's flight to materialise. Sitting there allowed me to reflect on the last five days, as it's worth noting what it took to get to this point.
Once the boat Owner and I decided on the departure date and general program to arrive in Bali for the boat pick up, the first thing as usual is to book the air tickets, with Australian government permission to travel overseas approval. Those words under-describe the situation. The reality is there is a blanket ban on any Australian citizen leaving the country. What is required is an exemption from this ban. This is an on-line process with a direct death in the family or what turned out to be a stringent business reason the two main prerequisites for potentially being granted this exemption. Any reader here should note whilst you pick a date to travel, it is better to get the Department of Home Affairs exemption approval in your hand before you book an air ticket.
My first application for exemption was denied and we had to change my flight dates. As part of the juggling act of Exemption to Travel and flight dates one is required to have a pathology CV test that at the day of departure has taken no more than 72 hours previous and potentially still should be valid at your point of arrival. So, you cannot get this test very far in advance of departure date, nor can you leave it till the last day before travel, as it take 24 hours for the test results to be e-mailed to you.
Relatively simple you say to get the pathology CV test? Not quite. First, you need a doctor's referral to get the test. Once you have this, do you just turns up at the pathology lab that does these tests and get it? No sorry. Before you can get the test you must register and pay for test on-line. Once the lab has emailed you acknowledgment of the 150$ payment and approval to proceed, then you must stand on the pavement in front of the lab until summoned, given a mask and completed the 30 second test.
I mentioned my first Exemption to travel was denied and received the 2nd swing travel approval 36 hours before I was scheduled to depart. As it turned out I got my CV test at 16.30 the day before my 23.00 next day flight. So here I am sitting in Brisbane airport looking at my emails every five minutes, willing a test result to arrive. The boarding gate opened at 20.30, my test result came at 20.48, sigh… relief. I was armed now with a great confidence as I had my flight ticket, permission to leave the country, visa for Indonesia, current negative CV test [required for both departure Australia and entry Indonesia] and lastly, my pre-booked Quarantine hotel in Jakarta.
Now thinking, 'check in will be a breeze!' 1 & 1/2 hours later in a line with only 10 potential passengers, I finally was in front of a young and bubbly check-in person: I said to him with a self-confident air, "Can I assume most of the passengers have not had their paperwork in order? Seems like check-in per person is taking a while." He just smiled and asked for my papers while pulling out a Protocols Manual for outgoing passengers. It was the thickness of two New Testament Bibles and I swear after we got through check-in I wished I had one to read!
Permission to depart passed first scrutiny, valid negative test passed, then he looked at my Indonesian visa and squinted, flicked through some more passport pages and called over a person I later found out was his supervisor. She looked at the visa disapprovingly, "Do you have the letter the visa approval came with?" I then explained mine was a five year visa allowing me to work in Indonesia, that it was current and up to date as the dates stamped on the page indicated. She hurried away and began looking through what I could only assume was another "Protocols Manual".
It was at this stage I thought I best bring out reinforcements. I proffered my Indonesian driver's license, my Indonesian identity card and the piece de resistance, my tax file card. Between what the young lady found in her book and the extra supporting cards I had provided we got through to, "Yes, you can enter Indonesia".
At this point I am still waiting for the check-in chap to direct me to put my luggage on the belt, but then, "No not yet", as he explained now he had to call Jakarta Home Affairs to get their approval. A big dent in my previous self-confidence emerged as I noted to myself that knowing what I know about Indonesian based communications this was a real long shot not to mention where had this young man learnt to speak Indonesian.
To my absolute surprise in not three rings the phone was answered and answered by someone at the other end, speaking English. After a short interchange the check-in guy smiled with a thumbs up. When I asked him how that whole approval process transpired so effortlessly, he explained that Singapore Airlines had set up a hot line in all destination countries flying to. Note to self; use Singapore Air all the time.
And just when I am thinking, finally my bag will make it onto the check-in belt, the chap picks up the phone and says, "The last approval we need is from Border Force Australia." Mercifully this also was a relatively quick call. To my surprise whoever was at the other end was able to quote my permit number from the chap by just saying my name. Once the permit number matched and phone cradled, yes I could put my bag on check-in, bag tag and boarding pass were printed and we were on our way.
The check-in chap then explained my seating and bags were all the way through to Jakarta and, he mentioned, "I have put you in a row of seats all to yourself on both legs". I thanked him for this wonderful gesture and finally moved on my way to Immigration and Customs. It wasn't until i was on the plane that I realised every single travelling passenger had rows of seats to themselves and there were many rows of seats empty. It turned out the plane was 10% capacity, a point in the economics of the airline industry which will haunt all airlines for a few more years to come.
By compassion to the check-in, the transition through Immigration and Customs was a cake walk. No queues, all of the back check grunt work was done for them by the Airline check-in staff and it was straight through to the waiting rooms. As we travellers know the normal waiting rooms are just capitalist dens of traps to get you to spend. Not this night. Not one shop, cafe or outlet open. I would say 80% of the lights in entire hall were off. It revisited that earlier feeling of being on an abandoned movie set.
If one did want a drink or a snack there were five or so vending machines temporarily set up in the middle of the common area. It was then I realised how few passengers were actually going to be on this flight. The boarding process underlined the one pervading aspect of the whole trip that was other-worldly. No lines, no queues. At every point of the journey one could easily social distance because there was physically no one around or any rush to get somewhere, or do something.
The thing I hated (I know hate is a strong word) about travel, airports and planes were crowds. Layers of humanity all like sheep moving in enclosures specifically designed for masses to be as orderly possible in going about their inane need to get from one place to another. Getting onto the plane there was no bumping into others hand carry-ons, no waiting for a crazy person to try to fit a 10 kg hand carry into a 5 kg space, or wait for 'Mr. no-care', holding up the line while taking off his jacket.
No, getting on the plane was as pleasurable experience as one could imagine the process being. As was getting to myseat row, spreading out knowing all the arm rests were mine and didn't need to get out when window seat lady needed to pee! It was easy to settle in to select what movie to watch, when dinner would be, and when to stretch out and sleep. Basically business class at economy prices. Before I knew it we were landing in Singapore.
It was two years since I had last been in Singapore, a country Pre-Covid I used to travel to for business at least once a month. The first and lasting impression one had when getting off the plane was everyone, and I mean everyone, on the ground had a full plastic visor, full length blue medical smock and pants, boot coverings and gloves.
The airport had turned in general hospital. The military personal whilst their guns were exposed had disposable covers on the trigger and handles. It may have been my imagination but there seemed to be more military personal around the airport than in the past. Here I was again, at a huge venue that my mind imprint was used to seeing with thousands and thousands of travellers moving swiftly though acres of duty free shops, cafes and bars and check in counters.
As in Brisbane International the silence was pervasive. No noise, no airplane noise, no crowd noise, not even announcement noise. I had one hour connection time lag. There were very specific zones roped, taped and marked where transit passengers could go and, in fact, tunnel on to the next departure gate.
As it turned out, by the time I had walked at a reasonably brisk pace through the deserted and closed duty free shops and arrived at the new departure gate, they were boarding the twenty or so passengers onto the plane. The flight must have come in with Indonesian bound passengers already on, as once again the flight attendant mentioned that the plane as again about 10% capacity.
The 1 & 1/2 hour flight to Jakarta was as comfortable and enjoyable as the first. Normally arriving to Jakarta Airport is a time for dread and I usually start chanting my personal affirmations in my head: "stay calm, just smile, be polite and you will be in the car soon". Having lived in Indonesia for 26 years and in Asia for 36; I had spent far too much time in Jakarta airport for my liking. There was nothing polite I can say about the madness and chaos that Jakarta Airport alone seems to manifest.
As in the previous mentioned airports, I could not reconcile my pre-set mind imprint of Jakarta Airport with the reality I was walking through this day. First, the airport WiFi not only was working but it was blisteringly fast. After being let down for years previously trying rely on the airport WiFi I didn't even bother logging on until the 30 passengers that got off the plane reached the first check point which was the medical check point.
The very friendly officer there indicated to us all we should log on to WiFi and use the QR code location registration process. It was with sardonic cynicism that I attempted both and to my absolute astonishment, both functions worked quickly and effectively. Had something happened to Indonesian IT capability and functionality since the year and eight months i had been away? It wasn't until I was in the car that I realised the WiFi worked so well purely because there was no user load on it.
At the medical check-point we had to fill in the hand written spaces on a page that was too small to fit information on to, as well as QR code imprint. After we all had completed this we moved on to line up for the Doctor's check. Here I showed the Doctor the valid negative CV path test and my Q hotel booking. She stamped my paper slip and I walked forward to the military officer who was allowing traffic through based on this approval.
All very polite, and dare I say, efficient. All airport staff were dressed with their normal uniforms, but had gloves and masks on. I was the first and only person to approach the Immigration officer. Usually here one gets a few cursory questions but this chap didn't ask any, didn't spend any time trying to pick holes in my paper work, just looked, stamped and moved me on. The Customs office after I collected my check-in bag spent even less time glancing at my declaration.
With not one person around me for the whole process, before I knew it I was out at the front of the airport. My brain was swimming, whilst it could never be a long term practical event for the first time in my life I have enjoyed my Jakarta airport experience.
The last phase of the day began as I exited the airport. A military officer with mask and gloves asked me where I was going and I showed him the hotel booking slip. At this point he summons a representative from the hotel group and she escorted me through two more military check-points, where I signed a form and the young airport rep Nita, as her name tag showed, signed another two forms. Nita took my passport saying it would be waiting for me at reception, a claim I again took with a little cynicism but felt with all the military around wasn't the time to make that point (my passport did come back as efficiently as Nita had promised).
Now I don't know if any of you readers have ever tried to get transport in front of an Asian airport but on any given day it is usually just bedlam. Carriers fighting for your business, operators screaming at top of their voices, a thick pail of carbon monoxide hanging in the air that after even five minutes waiting for a car to come, one is starting to feel lightheaded and sick. This is usually punctuated by the car rep saying, "The car will be here in five minutes, and it takes 40. Not today. Today there were a few cars standing by for passengers, no shouting or horns blasting, the air was almost breathable and of all things my car arrived three minutes after standing at the curb. Truly an aberration that I am sure I will never experience again post-Covid.
Now I am in the car and some things never change in Indonesia. The driver was a lovely guy, friendly and caring and this is the Indonesia I remember. I mention to him it is usually an hour or so drive from the airport to this particular hotel. He smiled and said not in CV-19 boss, only 1/2 hour as there is no traffic. Now to imagine Jakarta with no traffic is like trying to see the white unicorn. I cynically strapped in for the ride. Sure enough we breezed through each toll station, had no stops in banked back-ups of cars and it was clear roads all the way to the hotel. Driver was spot on at 30 minutes!
We arrived to the designated pre-paid Quarantine hotel. Here again mind imprint of years of arriving to hotels had me looking to the lobby area and ring road normally associated with being dropped for check-in. The car pulled into the ring road but instead of stopping at the lobby, the driver continued right through and headed around the back of the hotel. The driver didn't say anything or change expression as we continued to the back of house area of the hotel and then down into the very poorly lit underground car park.
Like much of this trip here again a movie scene popped into my head. My mind raced, about now is when they put a black hood on my head and jab me with truth serum for an impending interrogation. Instead the car pulled up at a still dimly lit set of glass sliding doors and I was greeted by what I assumed was a security personnel dressed in 50% PPE gear. He checked my passport and temperature, I signed my name on an innocuous spread sheet and was then led into an equally dimly lit big room that in anther life, looking at the wall deco, was used as an underground disco.
The weirdness didn't stop here. All the chairs were covered in black garbage bags. There were what I had to assume medical staff in full PPE gear and hotel staff in their uniforms but with masks, plastic face visors and gloves on, all arranged with seating and desks [covered with plastic film] in a rudimentary progression of what I later understood were check- through stations in a process to finally get to the room.
From what I could see I was the only hotel guest in this surreal dim expanse, all this was for me! At the first desk hotel staff reaffirmed my identity, passport and noted an Australian CV path test was needed. Then I sat on another garage bag covered chair until a medical officer summoned me to sit at her desk. Here another ID check, CV test paperwork check and another temperature test as she explained the next step was my arrival PCR Covid test. Almost immediately I was led to a curtained off area on the disco floor where a medical staff in full PPE and broken English sat me down and did his best to tell me he was going to stick a swab in my throat and up my nose.
Now readers, I am sure you are all feeling it in this era of mask wearing, one never really knows if someone is smiling, smirking or grimacing in their interactions with you. The non-verbal communication tool of reading someone's facial expressions, a tool I have relied heavily on all my life, had been taken away. At this point I am waiting for Doctor Evil to appear and say something like, "Well Mr Bond, errrr I mean Blee, what is the secret code for your ATM card!" Yes, definitly an overactive imagination from a long night on planes in play here.
In fact the PCR test went smoothly and I was ushered to the desk which was designated as hotel check-in where the chap doing check-in was marvelous. Behind his mask and visor I was getting every fourth word of his at best broken English. What he lacked in vocabulary, he made up for in his hand gestures and wonderful Indonesian hospitality. He did a wonderful job of talking me through the ordering of meals for the next five days and general protocols and rules involved in being in Quarantine.
The pre-order meal selection was actually far too detailed for my tired brain. They had a very carefully prepared big sheet showing in detail what every meal available was in the offered three culture categories of Western, Asian and Indonesian. Rather than obsess over these selections I just randomly ticked boxes for every day one each of cultural meal designations with the general attitude of, 'surprise me'. A sentiment which in some cases came back to haunt me.
With all of the formalities out of the way, the helpful check-in guy motioned me out of the basement dungeon towards the lift. During check-in I pulled out some of my limited Indonesian language and asked him for a good room with a good view, if he could manage it. He politely but sensibly stayed with English to say he would try. I looked at my room number, 18th floor, I think my man had come through. And come through he had. The room was very nice and the view was of some of the only parkland in down town Jakarta. I unpacked my laptop and other electronics and settled in for the next five days of Quarantine.
Now I hear many people complain about Q, being closed off in a room with little to no interaction with the outside world. For me this is bliss. I am an isolationist. It is one of the reasons I love sailing the oceans, delivering boats and living in remote areas as I have done for parts of my life. I really do not like society or the people in it. My dear friend Bill says of me, "Jimmy loves the world, its people he can't stand". And that does really sum it up.
Being the key barometer for most of us in life these days, the internet signal in the hotel was good. I had a list of some thirty things I wanted to achieve over the five day Q period. By the morning of day two none of these were crossed off the list nor even attempted. Damn YouTube and HBO.
As it turns out by end of the five days I had achieved some of the specific tasks I had set myself. I had shot some demo tapes of a new character I was developing for a TV show, finished a script writing assignment for a workshop I was doing, written a brief for a movie I want to write and did my normal day to day social media and family commitments, so I felt well satisfied with the Q period.
The box meals kept coming like clockwork every day and with varying standards of edibleness. It didn't particularly bother me some of the meals were what could have been described as poor. It just meant I skipped a meal, something for a guy carrying ten kgs too much anyway was hardly a problem.
The second last day of Q I was summoned back to the dungeon for my second PCR test for which a negative result was my ticket for better or worse out to greater Indonesia. After three tests in the last seven days the swabs in throat and nose were becoming just another reason for me to be able to judge people. It was apparent the comfort level of the test was directly proportioned to the skill and empathy level of the technician applying the test. The chap administering the test on this occasion was on the lower end of the scale of both indices, but none the less, it was done. The negative test result and certification of Quarantine stay was issued at hotel check-out.
The last night in Q was a reflective time for me. I had not been back to Indonesia since the start of Covid-19 in February 2020. There has been an enormous amount of upheaval brought on by Covid since that time and it was going to be with very mixed emotions I went forth into the greater Indonesian population. But as I prepared to leave the 8×7 hotel room I had called home for last five days I was I hoped, mentally prepared for the re-assimilation.
Instead of going back to the lower ground dungeon for check-out I was allowed to the usual ground floor hotel lobby, a good sign that my final PCR test was negative. Fully masked up, check-out was brief and efficient and with my official Indonesian Health Dept certification and negative test that allowed me to roam the country freely, before I knew it I was in the taxi on the way to the airport.
My next stop was Bali where I was going to on board to prepare a beautiful Lagoon 450 sailing catamaran for a passage to Cairns and the new owner.
I am now in Bali and in real-time. Stay tuned as I write part two of this adventure in Cairns Quarantine, a story that will continue going against the prevailing winds for most of the trip. I hope it to be an interesting and fun reading.