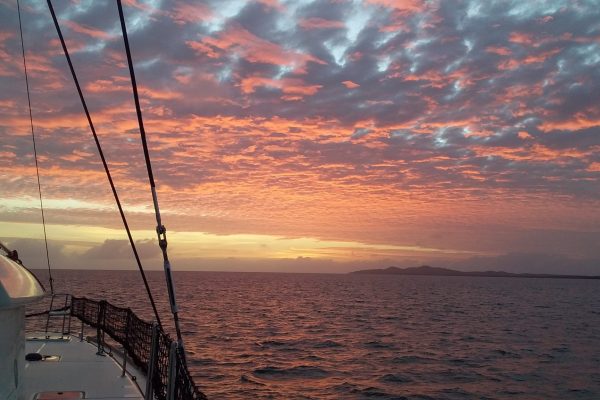 "Following Capt Jimmy Blee on a Boat Delivery… Bali to the Gold Coast"
The last episode saw myself and Steve leaving Sea Turtle 2 anchored unattended in Fannie Bay Darwin and arriving by police escort at the Howard Spring Quarantine Centre.
It was like arriving on a movie set. Everywhere we looked there were staff in full PPE gear. The friendly but professional woman who opened the minibus door for us carefully explained the "check-in" procedures, which we then proceeded to follow.
In actual fact, the Howard Springs facility is called the 'Centre of National Resilience'. Quite a fancy patriotic sounding name and as it turns out, this is a facility that had a great deal of design and planning going into it before its current role as a quarantine centre. The Centre of National Resilience was initially designed to house offshore oil and gas workers and has a rooming capacity for 850 people and won a quite prestigious Australian Urban Design award. The centre is also called by the first nation's name, Manigurr-ma Village. And despite all the names, it was going to be called home for Steve and me for the next fourteen days.
First, we were given our entry PCR test, making it the 6th PCR test for me in the last 20 days. After the test, we were talked through the rules and regulations of the facility and then escorted to our rooms by the still PPE clad staff.
Much of the shine had clearly come off the accommodation blocks and surrounding grounds since it had won awards. The barrier fencing with "Do not enter or pass" signs posted everywhere and red tape draped over potential walkways gave notice to the seriousness to which this isolation posting was expecting its residents to comply.
Our single bed accommodation rooms were in groups of four to a block. Blocks that resembled from the outside glorified shipping containers. On closer inspection, though one could see the clear design facets in play with the clever way the plumbing and electrics to each block were serviced. Each room had its own balcony and outdoor table and chair. A feature that as explained by our inductor, Jane, meant we could spend as much time as we wanted outside, an element that suddenly meant the Howard Springs stay was going to be far superior to any type of hotel-based quarantine isolation.
Entering the air-conditioned accommodation room it was, as to be expected in a sterile facility, very clean. The interior design of the room matched its award status, simple but functional. Single bed, wrap-around wall desk top, bar, frig, wall TV, electric jug, hot drink condiments and hanging space with storage drawers. The bathroom & toilet cubicle was spacious, well naturally light and again, spotlessly clean. These details all quickly faded as the fatigue of being awake all night bringing the boat into Darwin had the bed calling me. It was 2 pm and I was out as soon as I put my head on the pillow, hoping to be awake by 5:00 pm knowing, as Jane had explained, the meal drop was at that time each day.
As it was I slept past the food drop time and woke up to the darkness of night. Thoughtfully, Steve now being my next-door neighbour had put my two brown paper bags of food on the outdoor table after it had arrived. Not thinking clearly enough as to why there were two paper bags of food, I ravenously opened both and selectively ate what was tasty and well-prepared food items. The remains I put in the mini frig and went straight back to sleep.
I awoke to the morning sun peeping in through my one window indicating my room was facing east. An ironic fact given that most of the trip on the boat I was also facing east at sunrise.
One of the milestones each day whilst in isolation would be the daily temperature and heath check from the medical staff that occurred each day at around 9:00am. Two PPE clad officers would give each resident what became the all too familiar heat gun to the forehead and pleasantries delivered as, "any symptoms of cold or flu?" A 36 degree temperature reading and a 'no' answer saw them move on to the next block of rooms.
The other major daily milestone was the food delivery which as we found on the first full day in the facility was only one time per day at 5pm. I must have missed this detail when Jane was explaining it and by lunch of our first day I am looking out the window regularly thinking someone will bring breakfast or lunch. It was Steve who explained to me, when I was on the balcony longingly looking for the service people, that each day two paper bags of food were delivered. One was a hot dinner, sides and condiments. The other bag was for the next day's breakfast and lunch. It was expected one would store this in the frig to be eaten the following day. Reverse engineering from what I had as leftovers in the frig from the previous evenings feast, the logic and well organised nature of this food delivery system became evident.
As humans most of us are creatures of habit and order and after one day in Howard Springs we tended to each find our daily routine based loosely around the daily heath check and meals drop.
From what I could determine the facility had four larger fenced out zones and it was clear our zone was quite full of residents. Many of them were clearly keen fitness people as there was a constant level of foot traffic past my room of people running or walking for what seemed to me as long stints. The familiar faces and clothing of many of these fitness buffs along with my mental personalised character label for them became part and parcel of my morning and afternoon 'sitting on the porch drinking coffee' routine.
As the same as when I arrived to the Jakarta Quarantine hotel, upon arrival to Manigurr-ma Village I wrote a list of things I needed to achieve. Looking back, even though I had two weeks to complete the list, in retrospect it was overly ambitious.
Unlike all of my fellow "inmates" and especially Steve, I was enjoying the peace and solitude of Quarantine. Each day started to blend into the next. I would wake early, have a coffee on the balcony and watch the procession of fitness buffs (which included Steve) do their thing and chat with two of the residents housed opposite my room. One guy was a veterinarian who sailed on the live cattle ships. A very nice young man who had an interesting life and being a fellow long distance seaman, had some good stories to share.
Nothing showed the complete difference between Steve and my character than our approach and attitude to the Quarantine. Steve always had to be doing something. Sitting still in quiet contemplation of life was very difficult for him. Nothing showed this more than his morning exercise ritual. He had pre-mapped an hour's fierce activity which saw him doing static exercises after run intervals up and down the facility. It made me exhausted just watching him. Even though the Darwin days were beautiful cool winter temps of low 20' C, Steve was lathered in sweat after he finished his exercise regime.
Recognising I too should certainly do some daily exercise, I waited until after the morning health check and then did a 30 minutes leisurely walk up and down the walkways within our zone. After a few days of this I soon came to see, just like in real life, there were some areas within our zone to avoid. I am sure this was more a reflection of my unsubstantiated judgmental brain working overtime, but I my mind there were certain "neighbourhoods" in the zone that in my perception the unsavoury nature of its residents meant that I felt uncomfortable walking these laneways. I quickly settled into a well-worn pathway for my daily walks.
For my quarantine period I had decided to try to keep my daily interval solid food fasting periods I had settled into on the boat. Other than drinking my coffees each day I did not eat until 2pm, at which time I would pick and choose from the breakfast/lunch meal bag. This was an energy boost that got me through to 5pm when I would eat the hot meal delivered and that was it for the 24 hour cycle.
For me the meals were very good. They were on a seven day menu rotation and clearly planned by a skilled nutritionist and prepared in a professional kitchen. For other residents, many of whom resented being in the facility, it was the highlight of their day; dissecting and critiquing daily meals was a real talking point.
The first week flew past for me, though sadly, there weren't many lines through the tasks of my list of 'things to do'. I was finding I was sleeping really well as at night as there was no noise, human or otherwise. It appeared all the residents were on an early to bed/ early to rise life clock and all clearly adhered to the as what could be expected, strict 'No loud music or group gathering' policy of Howard Springs.
Steve, on the other hand, was high achieving in the considerable amount of tasks he had set himself to perform. Sea Turtle 2's importation was high on that list as the Border Force officers had made it clear the boat could not continue on its journey until this was finalised and paid. Steve had appointed friends of mine who run a Yacht Agency in Darwin, and they did a fabulous job organising and facilitating this import.
From the minute he had heard them the bulkhead noises and crunching fibreglass had plagued Steve's thoughts. Once on land he contacted all and sundry seeking explanations and potential compensation for this. The sales agency, the Bali surveyor and the previous owner along with a mountain of on line information [uTube again] all were brought to account in order to reach the inevitable conclusion that now having taken delivery of the vessel, and it being a thousand miles from the point of sale, this was going to be Steve's problem. An emerging bright spot in this story though was that Lagoon, as the manufacturer and given the weight of online activity about this being a systemic problem, had set up a help network for Owners. Steve would avail himself of this support once the boat was in the Gold Coast, a moment in time Steve was still obsessively focused to reach.
Sea Turtle2 had a few other problems to deal with. The main sail halyard like the sail was old and worn. Steve tried in vain to get someone in Darwin to change this to no avail. Likewise, the 12volt electric system, batteries and charging situation on board were not great. The house batteries did not hold charge for long and unless we had the engines running quickly dropped off under 12 volts if left too long. Steve was trying to get that situation looked at in Darwin and an electrician was recruited to come on board day after we got out of Q.
Other smaller matters of updating Australian charts for the chart plotter, refueling and re-provisioning the boat and paying for both of our Quarantine stay all needed to be planned and budgeted, as was Steve's meticulous predisposition. Having seen a glimpse of it in Bali, it was now evident that Steve had never fully come to terms with the costs that this delivery would incur and, in fact, the ongoing upkeep for his boat which was going to be a nonstop barrage of constant outgoings.
Day eight in the Centre of National Resilience saw another milestone event. It was Housekeeping day. The PPE clad facility staff delivered a complete linen and towel change and full top up for all hot drink makings. Oh no! A break in the routine. I had to adjust my whole day to include changing the linen. I further took the opportunity with the outgoing towel to wet it with the ample hot water in the bathroom and mop the floor.
Each zone in the facility had a well-equipped laundry to which I had used gladly on the second day of our stay. All of my boat clothes after ten days were in much need of this. Given my days' routine was already in tatters, I decided to do a top up wash of the sparing clothes I had worn since incarceration.
We were certainly now on the home stretch of our Q stay. Day ten was the schedule for our exit PCR test. A negative result delivered from this on day Twelve would see the way open for our release on day Fourteen. The days passed quickly for me and not much more was crossed off my to-do list.
I have to say the Howard Springs stay had fully recharged me for the ongoing passage. With the modern connivance of Google earth maps I had gone over our now new potential passage path, to what was still to be Port Douglas for a fuel and provisions stop.
The new passage path was going to coast hug the top end of NT until we reached Cape Wilburforce on the western coast of the Gulf of Carpentaria, taking me into waterways new to me. It looked like spectacular country and potentially should be a fairly smooth ride until Wilburforce, given we were going to have a lot of land shadow from what should have been the ongoing south easterly 15 to 20 knot winds. Crossing the Gulf of course would be somewhat a different matter. This would be a "lets live in hope" matter of getting a weather window to make that 350 miles crossing to Torres Strait.
The last full day of our Quarantine for me was a mixture of a reflective one, a once [I hope] in a lifetime experience and the general excitement to hit the ocean again and continue on our adventure.
We had booked the earliest possible check-out time from the facility, which was 9am and right on cue the two PPE clad officers were at our balcony to pick us up at that time. Check-out was a fairly simple procedure which involved walking through a tent and doing an all exposed skin sanitisation and discarding our existing mask and being given a new one for the taxi ride.
At this point in world time the CV-19 Delta variant that was sweeping the world had hit Australian shores. There was a huge outbreak in NSW and lesser clusters popping up in Victoria, Queensland and Northern Territory. Given this, ironically Darwin had just come out of a five day lock down to try control a Delta variant cluster in a NT mining town.
It was an eerie feeling being back amongst the general population. I had enjoyed the solitude and simplicity of isolation. There was no police escort for us as we got the taxi back to Cullen Bay, where again the police launch was going to drop us back to Sea Turtle2.
Despite being unmanned, the boat was sitting on the anchor as we had left her. Sadly her decks were covered with black ash from what it seemed were daily localised grass fires and her bottom
was covered with butterfly barnacles and weed that had clearly flourished with Darwin's warm tropical water and all round sun exposure to which the water line had been exposed.
We had planned three days to prepare the boat for the next leg and given his meticulous planning, Steve achieved this and we lifted anchor to depart Fannie Bay at first light on the 13th July, two days shy of one month after we departed Bali.
The mood between Steve and I was good. I had taken time off the boat as Steve had prepared her. He was refreshed as was I. Going north out of Darwin was a pleasure with a nice following breeze and tide also in our favour. The first day was a snapshot of what the trip could have been like for the whole way, should we have been going in the favourable time of year.
With the change of tide and wind dropping out as the afternoon unfolded, our challenges to make good forward way reappeared. The island and scattered reef scenery north of Darwin was beautiful. We ended up squeezing between a group of islands called the Veron's and it was here we encountered a ragging tidal push against us. Despite not making great way here, the water ways were spectacular. Large tidal streams, upwelling and massive eddies were everywhere and shifting the boat around. Pushing on though we kicked through this seawater maelstrom.
The onset of sunset saw the tide change back to our favour and a slight following breeze give us a nice lift and boat speeds to make up for the afternoon slowness. The first night sail out of Darwin saw us moving through between Melville Island to the port side and the Territory mainland to starboard, making reasonable speeds until in the early hours as we started heading east of the northern western end of the mainland. We welcomed back the winds straight in our face and the subsequent short sharp sea state to go with this change.
Morning came into yet another beautiful crisp northern winter's day and still with no angle of sail. We hunkered down and motored on into the sloppy sea heading directly for Croker Island. As was our plan, we were going to stay as close to the NT coast possible, trying to stay out of the Easterly wave action and try to take advantage of off shore wind that it might generate.
To a point this was working well. We were still experiencing the customary tunnel booming of the waves and the hobby horse bow jumping but nevertheless we were making reasonable speeds.
The afternoon saw us starting to get land shadow from Croker Island and the tide was working in our favour as we worked down between Croker and the mainland. It was a narrow passage here and again, quite exhilarating with the combination of scenery and the on-water action.
As with the entire trip to date, other boat traffic had been minimal. Oddly in this tight passage we engaged with two boats. Both as one could imagine going in the opposite direction. The first was a nice little sailing boat who got on the radio to ask us about the tide race condition around the Veron Islands to which I was able to give him as much good intel as we had experienced. The other being a big service barge that was trying to share the same narrow channel water as us, where the strait became very narrow. We agreed on a port to port passing and having seen where this boat had come through the passage, gave me a good indication for the best course to take without needing to think too deeply about it.
With the excitement of a little outside contact and with mid-afternoon approaching, the easterly breeze started picking up to 20 knots. And, while at the moment not affecting our forward progress, we could see that once we were out of the wind shadow of Croker island the open sea way was very rough. Steve put forward a good suggestion. Rather than round the south of the island and start slamming into the impending waves why didn't we anchor up for a few hours and see if, like the previous night, the breeze would drop out around 10pm. No argument from me on this. It had been an uncomfortable previous evening and day, so a bit of downtime was most welcome.
There was a very nice little protected bay on the south west of Croker Island that we initially thought looked to be some sort of cluster of buildings, was actually a small settlement or work camp. We got in close of what was a beautiful white sandy beach and anchored in three meters. Upon closer inspection the camp we saw was abandoned and in fact all the buildings were in advanced states of disrepair and dilapidation.
As usual Steve prepared a wonderful meal and we both put our heads down to sleep. I woke at 9pm and the breeze had already dropped out. Steve was awake and up and we raised the anchor and continued our quest east. Whilst the breeze had dropped to a 5-7 knots and there was still residual wave action from the afternoon but with the tide working with us, we made reasonable speeds until midnight, when the wind kicked in again and the tide started working again us. The next period in early hours of morning saw us making on 2-3 knots around Annesley Promontory, a body of land poking out that seemed to be in a tidal vortex. We began to get hammered speed wise and the wind picked up to 18-20 knots. The boat began its all too familiar up and down hobby horse and hours until dawn were very uncomfortable and slow.
Once around Annesley Cape I was able to turn the boat off the wind slightly as I steered a course for the Goulburn islands. Being off the direct wind in our face, the closer we got to these islands we started to get some land shadow from the awful 1.5 mts fetch we were encountering and it became a bit more pleasant.
As the new day arose and into the morning we were making better speeds and it was turning into a beautiful day. The wind was still easterly and 15 kts as we motor sailed to the gap between North and South Goulburn islands. By midday we had some tide current with us as we split this gap.
Even though we were both tired we could still appreciate the scenery here. White sand beaches everywhere to be seen and stark low lying limestone cliffs and shrubby foliage on a backdrop of total isolation. Not a boat, person, or sign of humanity. If we were not pushing non-stop as the delivery demanded, this would have been a beautiful place to anchor for a few days. There were fish working the surface everywhere, turtles breaching and sea birds in abundance as we got through to the eastern end of the gap and into mid-afternoon. We had cleared the shelter these islands had afforded us and were back into a 1 mt short fetch on top of a building easterly wind. The afternoon was uncomfortable but we were making reasonable boat speed.
Once past Goulburn islands I was able to set a course quite close to the land. This took us to a reef shoal I was certain we would get a fish as I trolled the line right close to it at sunset. Alas, no fish and yet again Steve worked his magic in the galley with one of the tastiest spaghetti bolognese dishes I had ever eaten. How he could make something this delicious in a boat galley in moderately rough sea conditions was an amazement to me. In fact, I prided myself on my boat cooking skills, but they could never match what Steve was producing.
That night settled into to seas we were able to handle and conditions for reasonable speeds as we continued our passage east with the main and 2 reefs up, a 1/3 headsail out and motors purring at 2,800 rpm. Our immediate target destination was Echo Island some 100 miles away. This was one of the southernmost islands in the Wessels chain and represented the western boundary of the great Gulf of Carpentaria.
I had identified Cadell Strait, a very narrow but recognised ship passage between Echo and Napier islands, as the passage through that would give us direct access to the Gulf waters. From the electronic charting this was going to be spectacular to go through as it would be challenging. As it was with most nautical matters, the tide direction and heights were going to be critical to negotiate it successfully.
This being our third night, it went well with us making 80 miles over the course of the 12 hours and morning rose to a dying wind requiring me to drop the sails and we motored through an easy day of flat seas and bright overhead sunshine. By this stage we were well into the land shadow of the Wessels island chain and this had taken all of the ocean wave action factor out of play and with little or no wind we were making a nice 5 knots towards the entrance of Cadell strait to where we arrived at by mid afternoon. We saw another sail boat in the distance. Our first sighting of others since Croker island. Speaking to them on the radio to get some local intell on the Cadell passage proved fruitless as they had traversed the whole west coast of Wessels group in order to get to this point.
It was 4.30pm [16.30], we were five miles from the narrow entrance and just when I thought I was going to run Cadell on electronic chart data alone, sure enough from the passage came a big barge. This was gratifying on a few fronts. Firstly that such a big boat came through the pass which meant there was ample room for us and second, I was then able to speak to the Captain for exact navigation details for this move.
The Captain, as we had found on every radio engagement in Australia, was friendly and helpful.
His two key pieces of advice: 'Go through on a rising or slack high tide and, second, the tidal flow was rising from east to west and conversely falling in the reverse direction'.
I thanked the Captain and as it turned out, we were just entering the passage now on a making rising tide. I knew then that for the first hour I could make way but ultimately we would end up with the current against us and unable to run against the tide. We decided to move as far into the passage as we could, find a place to anchor and get a couple of hours sleep. Then on the flat of high tide which was now going to be 1:00 am in the morning, raise the anchor and run the four miles of very narrow passage on slack high with the knowledge that once past the tight channel the falling
tide would be pushing us towards Cape Wilburforce, the edge of the Gulf some 50 miles away. From here we would launch our assault on this notorious body of water to the Torres Strait.
I am happy to report that our plan to get through Cadell passage went uneventfully, as it should have. One of the challenges I really enjoy in the electronic age of boating is tight quarters navigation through tricky locations. And whilst one very good brand of navigation aid electronics beam out on the literature, "Not to be used for navigation purposes", over the last years I have come to use it a lot in tight area traversing. To have this aid on my iPad and a cross reference back to the chart plotter, one tends to have a high degree of confidence to do these tight nighttime tricky passages. And let me tell you this was a tight one.
We had a run of two miles where the mud banks at low tide were fully exposed 30ft off either beam of the 450 Lagoon. With depths between 5 mts and 2 and a 15 knot easterly wind to contend with, it was with a great deal of relief and satisfaction we spat out of the eastern most end of Cadell passage, back into deep open water and heading still onwardly east through the oddly named English Company group of islands to Cape Wilburforce.
The sun rose to a spectacular cluster of islands. The wind had eased out and we were motoring nicely at five knots through magnificent untouched islands. As we wove through these islands we came across a very large pearl farm and from what I know about pearl farms, this was in a fabulous location. Beautiful unpolluted waters, nutrient rich with high levels of tidal movement.
As Steve and I enjoyed a fresh fruit salad breakfast he had lovingly prepared as we were coming up to Cape Wilburforce, our last land milestone before entering the Gulf of Carpentaria. To sail/ motor this body of water would be a first for me. We selected the gap between the Cape and southernmost Bromby islets to move on straight into the Gulf and get a feel for an experience for what the true wind and sea conditions would be like for the next 350 miles.
On approach to this gap we could see in the distance what looked like a significant military vessel anchored to the north of where we were heading and as we rounded one last island on starboard we saw another and then a significant land encampment with clearly some sophisticated communications domes. Steve and I could only postulate that this was a mobile military listening and first intrusion detection station. Whether it was or wasn't this explanation sure made an interesting narrative.
As we motored past this cluster of some fifteen huts and portable buildings there were also a few military landing craft and small vessels anchored in a much protected bay. All aspects that just fuelled our speculative view of the area.
The narrowness of the exit passage to the Gulf, and what we could now make out was a raging current, quickly diverted our attention from the fictional to reality. We could see the tide was clearly on the make here and we would be punching a very strong current to get out past the northern tip of Cape Wilburforce and on our way in the open water of the Gulf. The wind was still a steady 15 knots and it took us quite a while and a little angst from Steve, who pushed the engine rpm to 3400 rpm's, an event we did not get to as often as we should have on the trip.
Once clear of Cape Wilburforce we were in the Gulf waters true. We did not get the direct South East winds we had hoped for and it was more coming from an East South East direction at, yes you guessed it, 15-20 knots. So with the main on 2nd reef and head sail half out I plotted the course for the mid entrance passage of Torres Strait geographically defined by the presence of Prince of Wales island. At this point we could hold a very, and I mean very, tight beat with motors on to achieve this course in one go. A 336 miles run that was banking on the winds mid-Gulf to turn true South East and give us a better boat speed and angle sail to achieve our goal.
Once settled into sail pattern, and course we were running parallel to a chain of rocks and islets as previously mentioned, the 'Brombys'. We were getting a nice drive from the sails being up whilst not pushing too hard. Or as I thought! I could feel the tide was still having a negative influence on our progress but the afternoon turned into evening and we were holding course on a boat speed of average 6 knots, an outcome we could be pleased with given the conditions.
Steve had prepared a fabulous meal of curried sausages, rice and perfect crisp steamed vegetables. For some reason, something which we didn't normally do, we ate together on the outdoor table aft deck. He and I were now well settled into the delivery routine of three hour shifts on the night watches and me on the helm most of the day unless I went down for a sleep. This seemed to work well for us both and by this time most of our conversation was purely observational on either sea conditions or navigation. The overarching thing for Steve and this delivery was time, though I had tried to counsel him often that because we were going against the prevailing weather conditions, it was a folly to try to compartmentalise the trip into a tight time based outcome.
Notwithstanding this, Steve had a heavy mindset to the boat having to be in the Gold Coast so he could start living on it. He had pre-made a whole mental life plan of the work he had to do on the boat and new employment was to be his future. Further playing on his mind were financial matters. The true costs and burdens of owning a boat even now were starting to become evident to Steve. When we did talk, often he would refer to how this delivery already was going over in costs in what he had expected and he needed to get the boat back to Southport as soon as he could, so he could get a job and his life back on track, so to speak. "Men plan and God laughs".
After dinner I climbed back to the steering station, luxuriously two stories above water level, when I noticed a "bag" in the main sail. We were still making ok speed so the two observations didn't add up in my fairly fatigued brain until I shone the flashlight to the top of the sail. It had ripped right across the top batten and was still holding on the leach line; but the whole body of the sail had lost its shape and was now flapping noisily. "Sh.. oh dear", was my only thought as I called Steve to the steering station to show him. I could tell Steve had never seen a ripped sail or experienced the loud cannoning noises it was making. To shake him out of just staring upwards at the sail I explained we had to get the sail and offending ripped piece on the deck and under control.
Now, at 61 I am not as nimble as I used to be on a deck in a rolling sea at night. But with the full understanding there was no alternative, I explained to Steve to engage manual steering and I would talk him through the maneuvering required to get the mail sail down and under some control. To his credit he did very well and without peeing in my own pocket, I got things under a semblance of order without falling into the ocean, breaking an arm or kicking my toes.
With the main sail now secured on deck it was time to think through and discuss the consequences of this event and resultant strategy to counter the situation we had found ourselves in.
Steve's first reaction was how this will affect our time to destination? Mine was "where does this leave us for the safety of the vessel and crew". Without the potential to use the main sail in a time of crisis or engine failures was an important factor which needed to be considered. By this time is now 9.30pm [21.30] and we were 85 miles ENE of Cape Wilburforce and 40 miles from Gove to the south. This was the closest real port of civilisation on the west side of the Gulf that could offer any semblance of base to actuate a sail repair which would, in turn, mean putting the sail on a plane to either Darwin or Cairns for repair at an enormous cost and create a large time delay in the overall trip plan.
The alternative was to press on with the ability to use head sail and relying heavily on the motors to get us to Torre Strait and at least on the east coast of the Gulf where a sail repair could be considered before attempting to eventually head down the east coast of Queensland.
Based on potential huge costs and time delays Steve choose the press on option. A decision in the light of what was about to play out was still the better strategy no matter how harrowing and ultimately, the drama, were to unfold in the following days.
So here we were! Still motor sailing on a 80 degree course roughly towards the entrance of Torres Strait. It was blowing 18 knots from the ESE and we still had 300 miles to go. We were doing four knots of boat speed. Buckle in team, this was going to be a long hard slog. In the back of my mind I could see a "tack" having to be made at some point; where I needed to point the boat away from our objective and head south down into the Gulf in order to avoid what was going to be an inevitable northerly set that in turn would see us drifting back into the Arafura sea. I kept this to myself for now, concentrating on keeping as much boat speed as we could muster. As described in previous pages the catamaran does not handle head waves well. Every time the wind got up over 20 knots the boat speed would drop in low 3's and our course would suffer for the worse.
We struggled through the first night of big waves and slow boat speed. Steve's conversation focus was, "We have to jury rig the main so we can raise it again and get more speed". My response was somewhat cynical, that we could not do anything in these sea conditions with the main that was not dangerous and that no matter what, we needed the light of day to look at any potential works we could do.
Sunrise came, it had been a horrible night and the emerging day gave no respite to the rough and inhospitable sea conditions. We had done a mere 40 miles since losing the main. On my night watches I thought through what we could potentially do to get the main to a condition that could potentially get it up and get some drive out of it. To be frank, I did not put much faith in anything we could do, but Steve by this stage was insistent we try. I had tried hard here to manage Steve's expectation for a positive result and explain the dangers to both of us, which would require us dancing around on a pitch poling deck two stories above the water line.
First thing we had to do was to remove the ripped head of the sail from the rest of it. My initial thoughts were, with this done we could attach the halyard to the revised head of the main sail and at least try to raise it to the height of 3rd reef. Of course this meant one of us going up the mast on the fold out "rungs" to get on top of the boom and start undoing the sail from the slides. Though Steve manfully volunteered to do this work, but given the reality he had no idea what to do once he was there, it was me that needed to do this.
Never have I felt my age more than climbing the mast and hanging by one hand swinging and rocking, standing on top of the boom trying to undo the sail from the mast slides. The resultant bruises on my torso from this little exercise were still evident two weeks later. The short story was after four hours of both of us getting thrown across the decks we had cut off the ripped section of the sail, I had jury rigged it with what I had hoped would be a strong enough attachment to the new head of the sail and that would allow us to raise it and get some drive out of the remaining remnant of the sail surface area.
As we raised the main it went up surprising well. It lasted all of four minutes with tension on the revised head securing point before it parted and the sail started sliding back down the tracks and flapping wildly. By this stage fatigue from the entire morning's exercise was starting to set in and we were wet through from the continual spray of waves cascading the decks and smashing through the foredeck trampolines. The only good thing was it wasn't a cold wet but a tropical wet.
The disappointment was evident and reflected in Steve's demeanor. He had put a lot of faith into getting the main sail functional again with the expectation of more speed. The low boat speed and rough seas was not sitting well with him. I thought to throw one last effort into trying to get the main at least partially functional.
On the sail were securing patches for running blocks for the reefing lines. There was one such reinforced patch closest to the top of the new reduced sail. I felt it was a last roll of the dice to attach the up-haul halyard to the stainless steel lug on this patch. We did so and started to raise the new sized main. Half way up however, whilst the reinforced patch was holding well the sail cloth around it was starting to tear. Clearly this area of sail, whilst strong enough to take the downwards tension of securing a reef, was not strong enough to take the up-haul pressures of the hoist. Not wanting to do any more damage to the sail we aborted this attempt to raise the main and indeed, tossing the whole concept of getting the ripped main semi functioning.
The afternoon was a sullen affair as the reality of our average 3.5 knots and uncomfortable seas state for the next two days settled in. But settle in it did, and we continued forward towards Torres with the two engines ticking over at 3,000 rpm and a half head sail giving us a little drive and much needed stability to punch the oncoming waves. Each seventh wave was a bigger one and upon impact shuddered the boat to a standstill as the poor craft's only response was to bump up and down over these.
That day turned to night, then to day and night again. On the morning after the third night after losing the main we were 130 miles north west of the required entrance to Torres Strait. We had fallen below my way line course to this location on our present speed and conditions. To make matters worse, we seemed to be getting set by the ocean current washing out of Torres that was pushing us North into the Arafura sea. Certainly a place we didn't need to be.
Explaining the current position concept to Steve, that the only strategy to counter this was to "tack" to a course motor sailing back into the Gulf with the view of getting much closer to the coast, was a task.
To "tack" south to a point on the coast and eventually turn back to Torres entrance meant we could hug the coast all the way, benefiting from the off shore winds with limited wave fetch, and made perfect sense to me. To further be close to the coast and out of the serious ocean currents that were affecting us, pushing us away from our destination, also to me sounded logical. But for Steve it was a little harder to absorb, "How far would we have to tack? he asked. "About 100 miles by my reckoning" I replied.
The color seem to drain from his face. "You are saying we have to drive the boat for thirty hours in the wrong direction from where we need to be going and then turn to run for another 24 hours or so to get to Torres?" It was no use sugar coating it, "Yes", I again replied, adding: "Steve, on our current projected course and in these 20 knot winds we are moving into a serious chance of being washed back to Indonesia. The "tack" will face us directly back to the Australian coast line bringing with it both the safety and tactical advantages that would well override any time loss factors to your perceived passage master plan".
With this Steve agreed and we duly "tacked". I immediately felt better about our chances of getting across the Gulf. I knew in my gut our only chance to keep boat and us safe was to get as close to the eastern coast line of the Gulf as we could. Our new course setting was a heading that would put us at the entrance of the Port of Weipa some 100 miles away, an ironic fact in this tale, as you the reader will see as this story unfolds.
We settled into the new course. As it had been all across the Gulf it was slow hard going. Have I told you all how badly catamarans go against the wind? Up and down on the waves! I was on the helm much of the day and Steve had been quiet, looking every 30 minutes or so at his iPad that had a navigation aid delete. I could see he was counting the miles we were going in the opposite direction to Torres. It was wasn't until after lunch that it started, "Surely we have come as far as we need in this direction and we can turn for Torres now?" The reality being we had made hardly any dent into the distance I wanted to cover and we were certainly no closer to the coast, an objective I desperately wanted to achieve.
I deflected the first couple of these with a smile and a rehashed explanation of the importance to get close to land. By late afternoon, his now continual references to his iPad, his complaining about the time we are losing and how much he has to do at the Gold Coast when he gets there, and the constant, "Surely we can turn now" comments, got to me. For the first time in the trip I raised my voice. "Steve, we will turn when I think we can get the necessary advantages to make the entrance to Torres. With the boat in this disabled condition and weather still blowing as strong as it is, we have to make more distance closer to land". This outburst gave me some respite from further comment until into early evening.
We were still nowhere near where I wanted to be in relation to the closeness to the coastline but for the first time in days the wind had died to the low teens and the boat was making better way up to 4.5 and 5 knots. I knew it was coming and sure enough just after dark I got the, "Surely we can turn now?" comment. We were 100 miles from Torres entrance and 50 miles off shore. If the weather conditions held delete we could get concurrently closer to the land and entrance. If the weather held!
Nevertheless I did make the turn which visibly pleased Steve, highlighting still his ongoing inability to grasp of the dangers of this early call if the weather shifted. As it turned out, it held for a few hours into the night. With half the head sail out and both engines pushing us forward we were making a makeshift beat directly to south west most entrance of Torres.
It's a strange observation but in my years of sailing experience I found when most adverse events happen in a passage they do in the early hours of the morning, when by and large humans are at their least alert. I cannot tell you how many times that this has happened to me on the ocean.
It was around 2am, we were 60 miles from the entrance to Torres and the wind had built, we were rocking and rolling. Steve was on watch. And I was in my usual fitful sleep that boat passage sleeps normally prevail for me. My sleep was interrupted with Steve calling me, "One of the engines has stopped!". Sh.. Oh dear! I thought through a tired brain. One of my worst fears had come home to roost.
Without requiring examination this was going to be a fuel problem. The tanks were now down to under half on both sides. With the huge pounding the boat had taken since departing the west cost of the Gulf clearly the sludge and residue from four years of poor quality Indonesian fuel had shaken through the tank and now clogged the fuel filters, causing the engine to starve and shut down.
After explaining this to Steve and further stating the fact that 2am in the morning was not the time to be crawling around on a hot engine trying to change the offending filters, I was able to convince him that the safest move here was to tack back down the Gulf coast with now one good engine and half a head sail and wait until the light of day when the engine would be cooler. We were hopefully closer to the shore and out of the now messy seas conditions, to deal with the filter changes. The current 50 miles off shore we were delete suddenly didn't look to be enough for me.
Now this plan sounded good in theory. One could be forgiven for thinking "OK, the catamaran has two engines, one goes down no worries, the 2nd engine will power us along". Well readers, no this is not the case. The reality of the Lagoon 450 under one engine is that all it wants to do is go around in a circle. Under one engine steering the craft becomes a challenge of unfathomable difficulty. The only saving grace in this scenario was that with the solid 17 knots of wind it kept the half head sail filled and allowed us some steerage. Given this I let a bit more sail out to increase the steerage assistance but still we were now doing under two knots in a bathtub like sea.
Needless to say Steve's demeanor from these rapid fire events and the realisation for his cherished and continually mindful time schedule was not good. It was pitch black, no moon, the boat was heaving, creaking and slamming in a confused sea and with a speed of under two knots, what we were technically doing was having no real effect in getting us my desired closer to shore, or in fact, any way out of our current position.
I went back to lay down knowing I wouldn't be able to sleep but just trying to get to a place where I could think and reflect on our next moves beyond waiting for sunrise and the horrible job of climbing in a rolling engine room and changing filters, which was about all I had at the time. I drifted off to sleep hearing Steve continuing to press the engine start button in the misplaced hope that by some miracle the engine would restart.
Drifting off to a fitful sleep I did and wake to a filtering of the first day's light. The boat was still getting rocked by the rough seas and it was still blowing around 18-20 knots. We were making about 1.5 kts as thankfully delete the port engine was still going. I made a coffee which these days was consisting of two heaped spoons of Nescafe Blend 43 in half a cup of luke warm water. Not bothering bringing the water to boil was a reflection of needing to get the pick me up beverage
down my throat as soon as I could. During this process I was mentally preparing for the filter change process and doing a check list of what I would need.
With the coffee down the hatch, so to speak, I dived into the engine compartment on the exposed aft deck which was still wildly pitching and wearing the occasional waves wash. Steve had joined me leaving the boat on auto pilot, a function that could only be happening because the half head sail was giving us enough drive for the rudders to bite and the pilot to stay engaged.
The fuel system on this boat was similar to most. There was an external brand pre filter designed and in place to filter on a twofold basis; particles and accumulated tank sludge through the upper replaceable element and separate water and heavier tank debris via the lower clear see through bowl that in turn could be drained off by opening a threaded valve at the bottom of the bowl.
Looking at this bowl it was obvious why the engine had shut down. With the starboard fuel tank now down to 1/4 full [or empty depending on your life outlook], it was evident that with the boat being pitched around in the waves, the fuel tanks had been stirred up and what I was sure was a residual buildup of particles, dirt and gunk from three years of taking low quality Indonesian diesel fuel and now fully water borne in the fuel.
So, first order of business was to open the pre-filter unit and remove the replaceable element of which thankfully we had three spares on board. Removing this element was usually an easy pain free process, however with the pitching of the boat and its position at the back of the engine this was not the case. Having said that, the screw top lid of the filter body did come off easily to reveal an absolutely debris sodden filthy element. With the filter open I then opened the drain valve at bottom of unit to let the residual dirty fuel there drain out into the bucket I had placed under the unit for this process.
As mentioned Steve had joined me from the time I started this process. At that time I had asked him to retrieve from the forward storage hatches one of the geri cans of diesel we were carrying as spare. It is timely to note that since we had been on board Steve had always referred to the fuel we put in the boat as petrol. Like many of the nautical terms he had not quite got his tongue around during the journey, I corrected him the first few times he miscalled an item but if the error persisted I just let it slide. Maritime readers will know it is an Australian standard that diesel fuel is usually stored in yellow containers and petrol, or benzene as it is called in Indonesia, is stored in red cans.
To be frank it was no surprise when I needed the diesel I had asked Steve to retrieve, I looked up to see he had brought a red container. Noting this, Steve's response was "I think in Darwin I used these red containers to fill the spare fuel for the boat". Shaking my head and staying quiet was something I had made quite the art of by now. I climbed out of the engine compartment and headed to the fore deck to retrieve a yellow container that I knew from Indonesia and, was in fact, filled with diesel. With this in hand I took the clean fuel from the geri can and flushed the inside of the pre filter element and clear bowl. I closed the bleed valve, put in the new element and filled the whole unit with clean fuel and closed the screw down lid.
That was step one done. As most would know, on any engine there is then an engine brand fuel filter attached to some part of the engine usually referred to as the primary fuel filter. This was a replaceable screw off element. To get these off one used a tool that was a rubber or webbing loop attached to a solid handle. The loop goes around the element body and self-tightens as one twists the handle in the anti-clockwise direction to loosen and remove it. Again on a level nonmoving platform, a relatively easy process. By this stage my hands are covered with slippery diesel fuel and with the boat bouncing and yawing the whole process was not going well. It seems that Hercules must have installed this filter as it was not budging. Every time I put some purchase on the tool it would slip off. After a few futile attempts with the tool I decided to go bushman with this task.
I got a screwdriver and hammer, my two favourite tools for most jobs [especially the later], out of the nearby box and banged the screw driver through the light aluminum body of the filter. With this done, turning the filter off the mounting went effortlessly. The old filter went into the bucket and I started to fill the new element with clean fuel. With the fuel overflowing I reattached it into position and wiped down the area with a piece of towel that we had now designated as a rag.
So far in my thirty years of sailing I tend not get seasick. In fact during my career I have only be officially seasick once and this was when I was young and after sharing a bottle of rum with a dear friend of mine, Benedict [Benny for short]; ironically someone who will feature later as this tale unfolds.
Notwithstanding this, after having my head down in the confines of the engine compartment with the excessive wave actions and breathing diesel fuel fumes, I was starting to not feel great. Best description would be whoozy. I looked anxiously at Steve as we both had a lot riding on this filter change as he went to the flybridge to turn the engine over. At my shout Steve hit the engine starter, it fluttered to life, big smiles all round only for them to quickly recede as after running for three minutes the engine again went silent. Agggggghhhhhhhh!
With this start/stop event, my only deduction was the system was sucking air, possibly from where I had not reattached the filter casings properly. I undid both filters, wiped and cleaned the surface areas of securing threads and covers, reinstalled and topped up the filters with fuel. The next start event saw the same thing. Engine kicked over nicely ran for three or four minutes then died. I decided to check the filters again, both were again empty of fuel.
For some reason fuel was not getting past the pre filter. I took off the feed fuel line that joined the pre filter from the fuel tank, I blew into it. The cacophony of hull banging and waves smashing on the boat did not allow me to hear whether my blowing was producing bubbles inside the tank indicating a free passage of fuel from tank to filter but from the resistance to my blowing I highly suspected now there was a blockage at the pick end of the fuel line in the tank.
I had lost track of time by this stage, the rancid taste of diesel fuel now in my mouth brought on a fresh wave of wooziness and my back was aching from being bent over in the cramped engine compartment. I had to get out of there and that I did. Once extricated from the engine compartment
I lay on the aft deck letting the waves spray wash over me as some sort of revival technique while to tried to think through blocked fuel pick up dilemma. If I had a dive tank regulator I could utilise one of the dive tanks on board and blow air back through the fuel line to dislodge the offending blockage, but we did not have one. In fact we didn't have anything I could think of to use for this redemptive use.
In the peace and restfulness of my home after the trip I realised I could have used the tender pump to have done this job. However, as we know fatigue does not help critical thinking. I reported to Steve that I believed that we would not be able to start this engine until we could clear the blockage; that we would have to continue as we were doing, one engine and half a headsail making 1.5 kts in a southerly direction until we could get close enough to land to anchor and attempt further efforts to restart the starboard engine. "How long will it take to get close enough to land to anchor?" Steve asked anxiously. "If things go our way and the port engine does not shut down from the same problem, two days will get us close to Weipa some 80 miles away", was my answer. I could tell from the aghast look on Steve's face this was not a well-received potential scenario.
It was now around 9am. Steve had been quiet for the last ten minutes after our last discussion. The sea state was still awful and the boat speed unchanged when he announced, "I can't go on like this for the next two days, we have to do something! Let's call for help", as he motioned to the two radios on the nav station.
Even though I had given Steve a brief overview of the radios in our vessel induction in Bali, their function had never really come up. He had seen me use the VHF a few times dealing with Darwin Port authority and there had been some casual encounters with the very few passing boats we had seen in the journey so far. But being a non-mariner, Steve really had no understanding of the radios.
Reading the mood, I decided to ease into the bad news of his casual sweep of the hands motion to the radios. Firstly, the big one at the nav station was an SSB or HF [High Frequency]; I had already tested it during the trip and it was not functioning properly. Whilst I could hear some chatter on some frequencies, I could not get any reception from the well-used and recognised frequencies. At the time I looked into this and only had to look as far the antenna fitting and antenna location. There wasn't an antenna!
That left the VHF as our radio comms. As most readers will know, a VHF [Very High Frequency] radio is a widely used short distance form of communication. Rule of thumb for VHF range is line of sight and one of the reasons I had been pushing Steve we needed to get the boat as close to land as we could during the previous 24 hours.
I could tell that this explanation was not going down well and in some small gesture of potential hope, I put out three or four Pan Pan Pan calls to any vessels that may be in VHF range. The silence on the other end of these calls was deafening. Steve pointed to the obvious. There were distress buttons in bright red on both units. At his insistence and despite already explaining the range limitations of the radios he ordered me to activate these distress functions. Once the distress button is activated it sends an intermittent radio signal out on a 3 minute time loop until the order is deactivated. Given the previous explained radio deficiencies, to this day I do not know if any station heard these.
At this time Steve then produced three personal HF hand held emergency signal devices usually used by divers who potentially were left floating on the surface as they ascend from their dive. I am not sure where he had found them but assumed they were from his cabin. They were clearly old and looked of dubious functionality. He said, "What about these? Can I let one of these off?"
Having never set one off and, in fact, interested to see if they did work, I motioned to the newest looking one and replied affirmatively. Steve followed the instructions and indeed activated the device. Other than a small flashing red light that started blinking there were no other physical signs the device was functioning. With this, Steve then went for the EPIRB which was mounted on the aft deck bulkhead.
Unlike the radios we had discussed the function and use of this device. In Bali I had explained to Steve exactly what an EPIRB did and that it was very important that the unit was properly registered so that if in the then unlikely event of us having to activate it, the central control station monitoring the signal location would know who to call and speak to in relation to what then would have been a rescue situation. In relation to the central control for this unit, the EPIRB was an American brand and was registered and operated from a US base. At the time I asked Steve to contact the seller and said that he should change the registration contacts and validate the EPIRB to ensure it was still both functioning and the boat recognised on the global system. The selling Owner replied to Steve that he could not even log onto the EPIRBs operating web site and that he thought that the EPIRB may even still be in the name of the guy he bought the boat from. At the time this made me very uncomfortable but with Steve's insistence, we were to continue on and get sailing.
At this stage readers I was still in the thought process of trying to be able to raise some level of outside communication where we could impart the information that we needed a tow, hardly a distress situation. But when Steve started waving the EPIRB I knew we had graduated into a whole new scenario. Activating the EPIRB was an indication that we were in distress with potential life threatening consequences and that once the EPIRB was engaged rescue services at potentially great expense would be mobilised.
In my mind I knew I could not be associated or bear any responsibility for activating the EPIRB and by way of shielding myself explained as carefully as I could to Steve it was his and his decision alone to activate the EPIRB. It was his responsibility as the vessel owner for all consequence actions this activation brought about. As Steve again read these instructions for use he then pressed the activate button. My mind filtered back to the history of this unit. Here we were in one of the remotest waterways in the world, with an EPIRB that was registered in a name of two owners previous of the boat to a monitoring station somewhere in the USA. The pessimist in me was backing it out that this was not going to improve our situation.
With the EPIRB now activated I decided to use my own personal emergency communicator. It is a little hand held satellite unit that its signal allows me to send text up to fifty characters to previously registered individuals. Again I had to be careful here. I did not want to send a message that caused a panic or undue fuss but certainly to let someone in my circles that we were indeed floating and needed a tow. So I sent a message explaining exactly that to Benny, knowing he would at the very least call Weipa Volunteer Coast Guard or the Police to see if we were on their radar so to speak.
Knowing we had exhausted every avenue of external communications to bring about a potential "rescue" it was then a matter of waiting and watching.
Now I do not know whether any of you believe in a universal presence in all of our lives but as clearly as these words are on the page not five minutes after the EPIRB was activated the wind started to drop. As Steve and I sat on the flybridge steering station over the next hour waiting for a glimpse of response to the EPIRB activation, the wind dropped from 20 knots to 10 knots and accordingly the sea started to lay down. Despite this there was still enough wind for the headsail to give us drive and steerage we needed to make forward way again.
On the hour after the EPIRB activation and now with high overhead sun, calm seas and the boat making minimal way at one knot we then heard the approaching helicopter. Clearly it saw us and approached at speed and started circling us. The VHF radio crackled to life. The heli was from Air/Sea rescue normally based in Cairns but delete was in Weipa doing training.
The pilot was a total professional and being my first ever rescue followed what I can only assume were well worked protocols expecting to find a disabled ship in mountainous seas with either injured crew or crew in the life rafts. Once we had clarified the situation and that both crew were healthy and safe and that the vessel was sound and only hampered in its ability to make way, the heli stayed with us for the next hour.
During this time of course the heli pilot was relying all of our information to Air Sea Rescue Base Cairns and AMSA in Canberra and kept us informed they were in the process of arranging a tow for the boat. The impressively red and yellow painted heli stayed with us for an hour until the pilot told us he was low on fuel and had to return to Weipa. He went on to explain however that they were handing over monitoring of our position to an AMSA rescue jet.
It was then that the full realisation of the resources and manpower mobilised to "rescue" us came to bear. The jet the pilot referred to was a Canadian Challenger 604. A plane operated by AMSA [Australian Marine Safety Authority] and a very impressive looking piece of work as it sped in towards us.
Not unlike the heli pilot the captain of the jet was an imposing leader of a man with an authority in his voice to indicate this was far from his first rescue encounter. What was about to unfold was truly amazing. And whilst I felt compromised that we had activated all of this process for a mere tow because of an owner who could or would not grasp what we should have done in the last 24 hours, I felt blessed to be able to see the operation first hand.
To witness what was about to take place has given me an insight into the brave men and women who are part of an Australian rescue network that is incredibly efficient and professional and did nothing but reaffirm my pride in the country I was born and the privilege it is to live in Australia.
The jet's Captain engaged us on the radio and after follow up questions similar to that of the heli pilots, he then explained to us what he was about to do as the next phase of the operation.
Wait for it readers! He was about to drop a satellite phone to us from his jet. I have to say when he first mentioned this I had to smile. But as previously referred, the voice of this Captain did not joke. I am not a good judge of plane speeds, however I have been in enough planes with those destination maps and trip graphics to know they go very fast. Watching this one in real time I am estimating he is doing 400 mph. When back on land I confirmed that the Challenger 604 cruising speed is 486 knots, over 500 miles per hour.
And they were going to throw a phone out the window at us! The pain and suffering of this trip was going to be worth it just to witness this.
As the Captain elucidated, he was going to do a fly over of the boat which with its present heading would see the plane on a north to south trajectory, and assess the wind which now was down to under 5 knots. Before we knew it we could hear the plane well before we could see it, and he did exactly that. The plane was there and gone before one could blink.
With the practice run out of the way, the Captain expounded they were going to drop a package that consisted of a heavy weighted water proof bag that contained a satellite phone, drinking water, biscuits and an emergency first aid kit. Attached to this bag was 400 meters of thin luminescent rope with a small parachute at the end.
The Captain further illuminated he expected to drop the package across our bow and that the components of the drop all floated so all we needed to do was continue on our current heading, and use a boat hook to pick up the rope at whatever position we crossed and retrieve the items.
I had pocketed my intrinsic pessimism from when I heard they were going to drop a phone and replaced it with awe. The Captain didn't disappoint as he kept talking to us whilst setting up for the drop pass.
As previous, we didn't really see the plane but heard it first. This time though it was lower in altitude, I am thinking about 300 meters off the sea surface. In a nano second a yellow bag appeared and then the orange parachute as it descended the yellow luminescent line extended, and the plane was already out of sight.
Now readers I am not exaggerating this for the sake of this story. The pilot and his team had landed the floating rope not 20 mts from the bow of boat. Even if we didn't have any forward propulsion, the boat would have drifted over the retrieve rope they had dropped so accurately.
To have witnessed this will be etched in my memory forever. The marvel of the skill of these people to have dropped that package from the speeding plane was sublime and as a highlight aspect of this trip, one of the reasons I wanted to write about it.
Nevertheless, we didn't have time to reflect on the marvel of the airmanship for too long. Steve was on the bow and retrieved the grab line. With everything from the drop on the deck, Steve opened the pack. The pilot had instructed us to firstly get the satellite phone turn it on and test it. Steve duly did this. The phone is preprogrammed to contact directly the AMSA central operations office in Canberra. Once up and running on the phone the plane was able to be released from their overhead monitoring duties of us and with saying many thanks [over and over again from me] the plane zoomed off, back to its Cairns base some 400 miles away. Another indication of the pure enormity of this operation. Before the jet was out of radio contact I could not help myself. I asked the pilot what emergency device we engaged raised the alarm as to our position.
Pull down my pants. The only alert signal was from the US EPIRB. The control station in US saw the vessels position and contacted AMSA directly and the whole recovery operation was launched based on delete recognition of the boats EPIRB. No vessel should be on the ocean without one.
AMSA central control also informed us that a Volunteer Coast Guard boat had been dispatched from Weipa to tow us back there. It was expected to reach us by 13.00. The seas were now as close to glass as they can get, a first for us since entering the Gulf of Carpentaria waters.
I looked at Steve, his face showed a relief and a tiredness that I am sure reflected my own. What a 24 hours it had been. Since the arrival of the heli the morning was a blur and it was nice to be moving heading for Weipa in a straight line at 2 knots knowing it was not going to be long before we could hopefully rest.
I could see the full impact of the recovery operation was starting to dawn on Steve. He was heavily downcast and speaking as much too himself as to me, how much this was all going to cost him. The reality for him was; a badly ripped main sail, one engine down and if I was not mistaken, the other not being far behind and an unknown rescue and recovery bill.
He turned to me and said, "I am going to get off the boat as soon as it arrives to Weipa and fly home. Can you stay on board until I work out what I am going to do, I don't have the money for all
the repairs and this rescue".
I had to continue my lament here. How could someone buy a 300,000 USD boat yet not have the expected funds to service and run the boat. To be frank, the last thing I wanted to do was hang around on the boat once it got to Weipa and I really didn't need to hear Steve didn't have any money, because while he wasn't paying me much, I still wanted to be paid.
Given the fatigue of us both, now wasn't the time to debate the merits of responsible boat ownership and the finance involved in the same. I choose the benevolent supporting role saying something along the expansive lines of, "Look Steve, I am sure after 12 hours sleep, a hot shower, a good proper meal and being anchored in a safe harbour the whole situation will look a lot more positive".
It wasn't long after that when we heard the tow boat on the radio. On deck I could see her steaming in at a good clip. Twenty five knots or thereabouts. No wonder that they got to us so quickly.
The Weipa Volunteer Coast Guard boat was quite new and a good looking boat. Having said that, any boat coming to tow us was going to look good. It was appropriately called Rescue 1 and the known brand of Noosa Cat. The Captain introduced himself as "Killer" an early marker that we were going to be polite and follow orders when it came to connecting the tow line and doing whatever was required to get both boats safely back into Weipa.
The weather was still kind to us. It was glassy conditions, no wind or swell. Setting up and connecting the tow line went seamlessly. I had rigged a bridle line from the two bow mooring cleats and tied the big tow line from the VCG boat to it with a bowline. Once we settled into a reasonable towing speed of 5 knots the Sea Turtle started doing what all cats do in this situation. It started fish tailing. Our auto pilot was never going to be able to counter this so I knew to keep the catamaran tracking straight behind the tow boat we would have to hand steer, countering the potential movement of the boat before it could take bite and spray off to the side of the tow boats wake.
Discussing further with Captain Killer we estimated we had about an eight hour run to the outer Weipa port markers. Explaining this to Steve I offered to take the first four hour steering shift. We both were exhausted but he certainly needed the immediate rest more than I. He was not in good shape and went below and slept.
The use of the auto pilot for the whole trip to date had spoilt me. Before I got on board the good ship I had steeled myself for a hand steering trip the whole way. The ease which the auto pilot can make any trip can never be understated. And now after one hour of quite vigorous steerage with a prospect of another three hours, my shoulders and arms were starting to reflect the way the rest of my body was feeling.
To add to the complexity of the situation just before sunset the fishing line I had been trolling went off with a reasonable fish on. Not being able to leave the steering station I had to leave the drag on the reel do its work and slow the fish down. Never the less the line peeled off the reel until there was not much left. Whether I got that fish was now in the hands of that universal power I spoke of previously.
Evening arrived and I noticed the tow boat veering off course more than it had been previously. As reported by Captain Killer, they had lost their auto pilot and they were now having to hand steer. Additionally the wind was now picking up to 12 knots, the combined effect of these occurrences added what Killer expected was another 4 hours to the tow.
The end of my four hour steer shift arrived but no sign of Steve. He is normally to the minute on shift changes. He must be still sleeping and that was ok as he needed that. Given that our expected tow time had now increased I was happy to plug on for another hour. I needed a pee and a strong coffee so I tied the steering wheel in place and went and attended to both needs. The tow boat must have noticed this as they called to check in with me on the radio.
Hour five of the steer shift arrived, no Steve. Hell! Do I wake him or press on. I choose the later and sure enough just as I was entering hour seven of the steer shift Steve appeared coy and apologetic.
By this time I was fully spent. I had to wind in the fish on the line. As it turned out it was still there and a very nice dog toothed tuna. Excellent eating. I got it in put it in a bucket of sea water to deal with the dressing of it the next day. It was now 10pm and I don't think I even felt the pillow as I lay down. It seemed like only a moment but 5 hours later we were inside Weipa harbour and Steve fetched me up to put the anchor down.
Weipa has big tide differentials and the tow boat had to drop us in clear water right in the middle of the harbour on a mud flat between deep water channels on either side. I was too tired to continue conversations as to how much chain to put out in anchoring situations with Steve and hoped, as always, his under estimation of chain to put out held us in the high tides. I have to say though the Rocna anchor on board has made me a convert for these anchors. Its holding ability in heavy winds did allow for an under lay of chain.
Thanking Killer & deckhand Brett so much for an outstanding effort in helping us, we wished them both good night and Steve and I went back to sleep.
Morning came, and as they do, the impending day looked far better after the sleep we both needed. Steve had, as expected, reviewed his "I'm getting straight off the boat stance" and was obviously facing the reality of his having a disabled boat stuck in Weipa and the accompanying problems just don't disappear.
We discussed strategy. Because Steve was obsessed with this never realistic time schedule he was always making mental plans. "I will find a sail maker in Weipa and he will take three days to fix and, and, and…. ". Well, firstly, he had to find a sail repairer and best he found out himself the closest one would be in Cairns 500 miles by road away for the car which he was planning to rent to save money to get the sail there.
And then there was the engines matter. Finding a good diesel mechanic in a mining town was never going to be easy. And sure enough when he did find one and asked, "Can you come down today?" The laughter at the other end could be clearly heard, "How about in 10 days mate!".
I won't bore you with Steve's indignations and self-centered views of how everyone should be dropping what they are doing to service his needs. We ended up putting the sail on a truck to Cairns with an ETA of return in 2 weeks. The diesel mechanic would come to inspect the boat by weeks end and give a quote for 2500 $, and of course Steve hit the roof. Steve himself ended up flying out of Weipa after two days. I stayed on the boat. I put it on a mooring further inside the harbour that a very nice local mariner allowed Steve to use and did many odd jobs to clean up the poor Sea Turtle.
I am closing this chapter with me getting onto a plane in Weipa heading back to Cairns at my own expense to spend what would end up being a wonderful ten days at home with my family.
Stay tuned for what will be an action-packed last Chapter of this strange and action-filled "routine" vessel delivery.