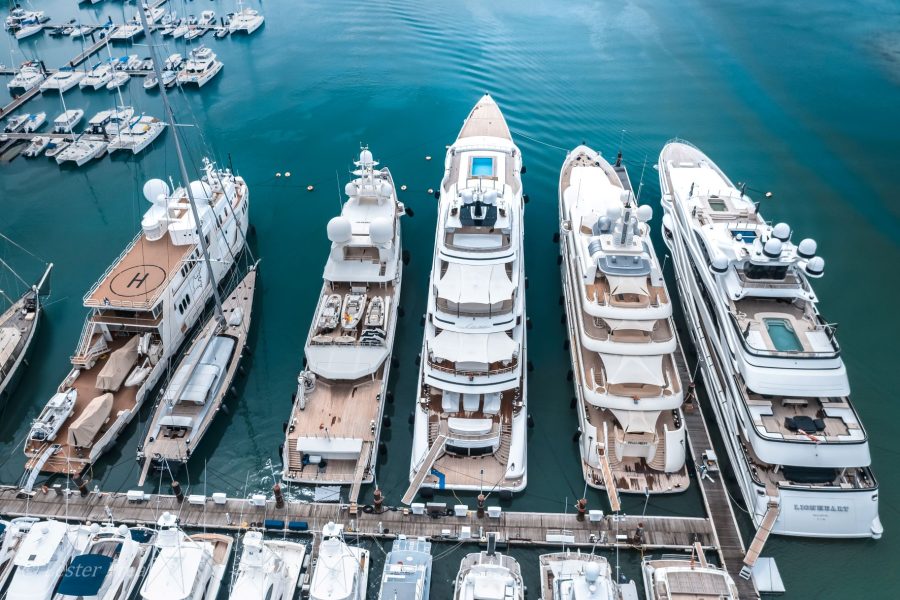 Asia Pacific Superyachts (APS) announced the formation of the new APS Seychelles in 2022 and General Manager Peter Alvis shares news, information and tips for yachts interested in visiting the stunning Seychelles.
Q. What is it in your background that brought you to the industry and specifically Seychelles?
A. My career over the past eleven years has been in the luxury hospitality sector for internationally world renowned and Forbes listed hotels. I was first introduced to the superyacht industry when I did the pre-opening of a five star rated marina hotel in Seychelles as their Operations Manager. We liaised a lot with the crew and owners of superyachts to ensure their stay in the Seychelles was a fond and memorable experience. We worked closely with the agents of the superyachts to deliver an unparalleled level of service. Not long after I was approached for my current role now working alongside our Directors that have over 45 years in the shipping/ superyacht/ fishing industry and were the first Port Agents in the Seychelles.
Q. What were your tasks when you started at working in the industry? Describe how your responsibilities have grown in the past decade and your position/responsibilities now.
A. When I first took on the role I was adamant of learning the ropes from scratch to understand the entire guest process from arrival to departure. In this profession knowledge really is power so understanding all the laws, regulations and processes are of vital importance to undertake tasks in the most efficient of fashions. My exposures dealing with high end hotel clientele has allowed me to best prepare for the quick thinking nature of the role as well has having multiple plans in place should our clients chose to change their minds at any point during their stay. As I always say "Failing to prepare, is preparing to fail", so myself and the team do all the groundwork in terms of logistics and execution.
Boasting a large array of business activities in our business portfolio has allowed me to be exposed with specialists in their respective trades, such as customs clearance experts, marina experts, shipping logistic experts as well as Captains of all catamarans, sailing yachts and superyachts. Having such large resources at our disposal allows us to best facilitate all captains, crews and owners whilst delivering a hospitality flare in the midst.
Q. What are the changes in Seychelles that have had the biggest impact on the marina scene and visiting superyacht/ yacht business in the Seychelles?
A. Seychelles saw a 71.6 percent increase in the arrival of yachts in 2021 compared to 2020, when the island nation was greatly affected by the COVID-19 pandemic. For the first and second quarter of 2022, 59 yachts arrived in Seychelles with a projected 80 by the end of the year. An average of 20 yachts each year are superyachts, each with a unique set of requirements, plans and itineraries.
Seamless entry with the typical arrival process itself taking as little as half an hour for a vessel to be cleared in, provided all documents are in order, with no visas required to enter the Seychelles showcasing our Country's efforts to welcome all its visitors with open arms. You can then cruise the full 1,100km from Mahé to the Aldabra Atoll (a UNESCO World Heritage Site), whilst popping up in the other 114 islands without having to go through another immigration check.
Good moorings and easy sailing distances between the main islands facilitate the discovery of a wide selection of islands and secluded bays. The pristine atolls and virgin waters of the 'Outer Islands' also offer a last frontier of adventure together with extraordinary opportunities for snorkeling, diving, fishing and once-in-a-lifetime exploration.
Q. Compare the number of visiting superyachts in last 15 years. How has service to superyachts changed from earlier years?
A. Customer services have greatly been enhanced over the years with businesses realizing the importance of ensuring customer satisfaction. The increasing presence of provisioning companies, marine equipment specialist shops as well as more governing bodies and entities has ensured consistency throughout the recent years and has meant that we are slowly moving away from the "island time mindset" of a decade or so ago.
With many specialized shops, visiting yachts have to rely less on the importation of specialized goods and on the occasion that they do, there are now services that ensure its prompt collections and delivery such as our proud partners of DHL Seychelles where they boast discounted corporate rates on shipments.
Q. Please share some tips for how visiting yachts visiting the Seychelles can maximize the experience for Owners & Guests, Captains and Crew.
A. Uniquely there is no really bad time to cruise in Seychelles, but the off-season from March to May, and from September to November is often appreciated as the islands are less crowded, deserted beaches and sailing becomes even more enjoyable. Everything depends on your interests: Botanic lovers will prefer to go to Seychelles in January or February, while dive enthusiasts will find their happiness with even more clear seabed and a particularly calm ocean between October and March. The simple answer to the question is to let us know your general interests and we'll tailor a plan bespoke to you.
Q. How closely do you work with suppliers/ marina / government and who are they? How do they help and support visiting vessels during their arrival, stay and departure?
A. Asia Pacific Superyacht Seychelles operates under the Hunt Deltel & Co. Ltd Seychelles Business portfolio. Hunt Deltel & Co. Ltd are the co-developers and operators of the Eden Island Marina so we work quite closely with the team to ensure that vessels calling under our agency are well looked after during their stay. Having operated in the country for the past 82 years the company has strong relationships with a wide range of suppliers locally as well as internationally. Our procurement and accounting team work tirelessly to ensure that all payments are made in a very prompt fashion allowing for the further strengthening of those relationships.
Q. Can you give us an example of a few memorable experiences with visiting yachts?
A.  It's all in the details. From quick timely responses from our team 24 hours a day, 7 days a week, to welcome amenities for our guest, and being able to tailor each and every single Seychelles calling entirely on the crew we are working with. A few memories include going out on sea trials with one of our clients and reaching top speeds of 45knots whilst touring the inner islands as well as arranging for a really memorable stay for a small family of four on their 20m motor yacht. They even highlighted our agency as one of the top services they've received on their world cruising. In short, we take very specialized care of vessels of all sizes and tailor our approach entirely up to the individuals we work with. There is no one size fits all approach working in the luxurious market and as such one has to be flexible and adaptable at all times, but most importantly being their unique and natural selves.
Q. Do you see government regulations changing soon? Changes that will support welcoming and easier access/ stay/ departure for visiting yachts to Seychelles? How will these changes help the owners, captains and crew?
A. Slowly but surely governing bodies and authorities are working with ourselves and other stakeholders to fully understand the requests of our clients and we are working actively to separate this particular sector of the maritime industry and create a clear differentiation between this and any other type of yachting within the Seychelles or for that matter the maritime industry. The arrival process has been simplified with plans to go digital much similar to visitors arriving by air.
The government has realized that there is more potential in this industry and as such is encouraging marina development. Earlier this year, the government announced plans for the construction of a new marina on Praslin that will solve the lack of berthing area problem that Seychelles' second most populated island currently faces.
At the moment yachts are given a 3 month cruise ship license for chartering with the possibility to extend for an additional 3 months. After that charter is no longer permitted. We are working actively with government authorities to have this restriction removed allowing for year round charter if required. This was originally put in place to protect the local market, but quite simply nothing exists locally in comparison.
Q. And, final question, what are your and APS Seychelles plans for the future?
A. We are working hard with all governing bodies to attract business by streamlining all activities as possible. To facilitate the government's efforts our team at Asia Pacific Superyachts Seychelles is drafting out worded Standard Operating Procedures to have fully endorsed by the government to ensure consistency throughout our field.
We are aiming to deliver a bespoke service to our clients by providing the small extra touches. After all life is meant to be lived for all the small moments not just the grand ones. Currently our market has tended to be seasonal during the European winter, but we are one of the few Superyacht destination that could be and should be year-long.
There is no specialized marketing from Tourism geared towards the luxury yacht market so we as the local agents are actively showcasing what our beautiful country has to offer on the International stage at shows such as the Monaco Yacht show and the Cote d'Azur.