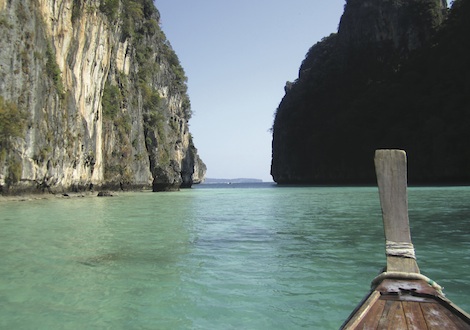 Thailand has never been considered a charter-friendly destination, although not through any absence of natural charm and allure has it been lacking. Thai waters are plagued by the outdated and unfavourable laws that are endemic to many yachting destinations that fail to distinguish between merchant and charter vessels. However, these counterintuitive decrees are set to change, as Thailand's Ministry of Transport has passed the Thai Temporary Charter license update.
Previously it was illegal to charter a superyacht exclusively visiting Thai destinations – unless the vessel was Thai flagged. Flagging a vessel as Thai requires the owner of the yacht to hire a Thai licensed captain and engineer as well as pay seven per cent on the value of their yacht, in order to 'import' the yacht into Thailand.
The updated charter license will "Allow foreign flagged vessels to operate a complete charter within Thai water", explains Adam Frost, managing director at Seal Superyachts. "It is cleaner and more clear cut, and has been mapped out through discussion with all the relevant bureaucracies as well as the industry players themselves."
For owners wishing to enter the charter market, maintaining a business that remains within the bounds of legality is crucial, the complexities of South East Asian policy have made such ventures troublesome and risky. Any divergence from the legal pathway may result in the impounding of one's yacht; so, for the sake of a steady heart and cash flow, the prudent business plan has always been to avoid running a charter business in Thailand. However, according to Gordon Fernandes, general manager of Asia Pacific Superyachts, the new license should "Throw open the doors to a lot of yachts wanting to base themselves in the area. The charter license will give owners the confidence to bring their yacht to charter in the region."
The key features included in this update are: 365-day licenses are available for vessels that are 30m and larger, licenses are non-extendable or transferable, there is a seven per cent VAT charge on the vessel and yachts may leave and re-enter Thai waters throughout the year-long term. Finally, the current license rate is Thai Baht 40 (£0.73) per ton, though this rate is expected to increase imminently.
These amendments to Thai maritime law are a victory for common-sense bureaucracy and the superyacht industry – but the work is far from complete. Issues still surround import tax and crew visa laws; bringing them into line with any charter update will be key to the development of Thailand as a charter-friendly destination.
In a recent statement, the Thai tourism minister, Kobkarn Wattanavrankul, revealed that she believes updated crew visa regulations will be finalised by the end of November 2015, stating; "The visa for crew will match the permit for the yacht, which should allow the boat and crew to work effectively during their stay in Thailand." Current laws only allow crew to work on Thai waters for 30 days – with no extension possible.
Questions still loom over the state of import tax. "The problem is that customs control all commercial activity relating to yachts, and they are saying that if the license is issued then the yacht is working in Thailand," subjecting the owner to the seven per cent VAT charge on the yacht's value. "The government is working hard to change this. The Prime Minister is fully behind the new charter rules for superyachts – it may just take a little longer to get there," finished Fernandes.
"While no specific impact studies have been released by either [the Thai Tourism Authority or Thai Marine Business Association lobby] department[s] – there has been a clear consensus among officials and industry stakeholders that attracting foreign superyacht charters to Thailand will boost ancillary spending in local economies and the wider tourism industry," reveals Frost. It is also hoped that by attracting the world's wealthiest individuals and their superyachts, Thailand's local elite will become enamored with the yachting lifestyle and the Thai superyacht industry will become stimulated from within – and beyond – its own borders.
[via Superyacht News]