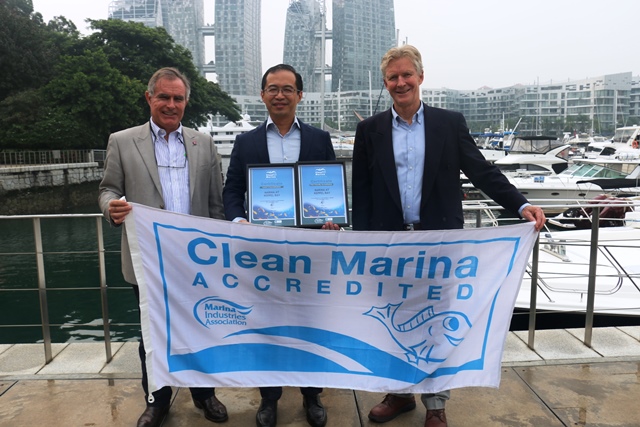 Singapore's Marina at Keppel Bay (MKB) has today been accredited as Asia's first 'Fish Friendly Marina' by the Marina Industries Association (MIA).
The 'Fish Friendly Marinas' program has been developed to inform marina managers on how to maximise the benefits for fish and recognise those operators actively working to improve fish habitat. Fish Friendly Marinas provides advice and supporting material to help marina operators incorporate beneficial outcomes for native fish into their existing operational plans, such as ensuring their marina is free from marine pests and providing habitat for native fish.
The initiative is attached to MIA's International Clean Marinas Program and the accreditation is an add-on for marinas with Level 3 accreditation.
Andrew Chapman CMM, President of the MIA, the peak body representing the marina industry in the Asia-Pacific region, formally presented the award to Trevor Fong, CMP, Head of Marina Management of Keppel Land Hospitality Management as well as General Manager of the Marina at Keppel Bay at the MIA Singapore and South East Asia Regional Meeting today.
Mr. Chapman said "achieving this recognition on top of re-accrediting as a Level 3 Clean Marina facility requires a solid commitment from participating marinas and the rigorous process includes two specific site inspection audits of key operational areas and a review of environmental practices. A written report with detailed feedback is provided to the marina.
Trevor Fong speaking on behalf of MKB said "we are very proud to be the first marina in Asia to be accredited 'Fish Friendly' through the MIA International Clean Marina Program. Through our City Reef project, an initiative to conserve underwater biodiversity and encourage the appreciation of marine life, Marina at Keppel Bay is today an underwater sanctuary, home to a thriving marine community. The accreditation will spur us on further in our commitment to operate an environmentally-friendly marina and advocate eco-friendly practices to boat owners." I would like to credit my team at MKB for these achievements and for maintaining our status as one of the leading lifestyle marinas in Asia."