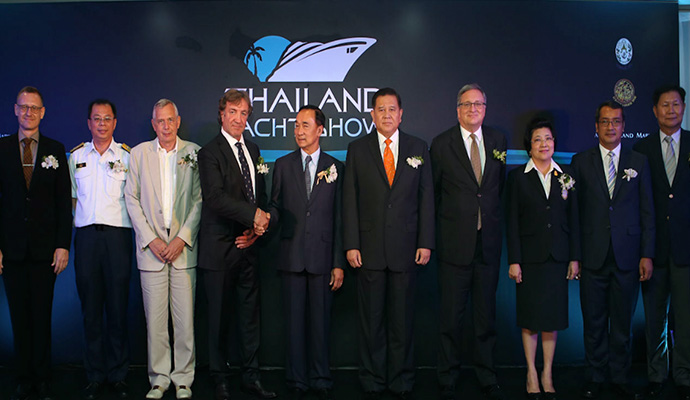 Scheduled for 8 to 14 February, the Thailand Yacht Show aims to position Phuket as a major global yachting hub.
The Thailand Yacht Show was officially launched at an international press conference and private launch party in Bangkok, hosted by Deputy Prime Minister, General Thanasak Patimaprakorn.
It was the PM's initiative to create an international Yacht Show for Thailand, and make Phuket the principal hub for superyachts in Asia. Also in attendance was the Deputy Minister of Transport, Mr Omsin Chivapruek, also involved in and highly supportive of the Yacht Show, together with around 150 specially-invited VIP guests.
Andy Treadwell, founder and owner of SYE opened proceedings and commented: "I am absolutely delighted that, thanks to the initiative of the Prime Minister himself, and the tremendous proactivity of the Minister of Transport and the Director General of the Marine Department in particular, we have recently been able to announce the new charter license for foreign-flagged superyachts.
"As a result, we are today able to launch a truly international yacht show for Thailand."
Invited to speak on behalf of the superyacht industry, Rico Stapel of Princess Yachts SEA addressed guests and commented on the partnership between SYE and the Marine Department: "We are delighted that the Marine Department has chosen to work with Khun Andy and his team on this new Yacht Show for Thailand; we have all seen the impressive show that they have developed in Singapore in a very short space of time, and we are fully confident that they are the best people to develop a fantastic show here too."
Andy Treadwell and the official Thailand Yacht Show launch party delegation.
The Deputy Prime Minister, General Thanasak Patimaprakorn spoke of the importance of the superyacht charter licence. "Before embarking on this major yacht show to invite the local and international boating industry to promote Thailand as a yachting destination, we decided to create a national framework which would attract more yachts to visit and stay in Thailand," he said. "This includes the change in superyacht charter regulations, more yachting friendly immigration and customs rules, introduction of new locations for marina and investment promotion packages for marina."
The proceedings took place at the Port Authority of Bangkok's VIP Reception Rooms, before guests were invited onboard the sensational 41-metre, Norman Foster-designed motor yacht Ocean Emerald – the first yacht to have been presented with the new Superyacht Charter Licence by Minister of Transport.
More than just a four-day yacht show for local and international charter yachts, the marine festivities will extend for seven days from the 8 to 14 February in and around Ao Po Grand Marina.
Activities will range from recreational sailing, paddle boarding, watersports right through to in-depth industry conferences. Tours of significant marine and tourism infrastructure will also be conducted to familiarise international brokers on the possibilities in Phuket and broader Thailand. There will be something for everyone looking for a Thai boating and yachting adventure.
Another important element of the week will be the social and networking events which will bring together industry and clients to ignite new relationships in a convivial atmosphere.
Already well known to superyacht owners for its superb cruising grounds, Phuket is strategically located for yachts coming from the Mediterranean to visit South East Asia and the Pacific beyond. It is considered the main infrastructural 'hub' for large yachts cruising the region, with over 100 superyacht berths available between the Ao Po Grand Marina and Phuket Yacht Haven alone, as well as ample first class service companies.
[via Ocean Magazine]