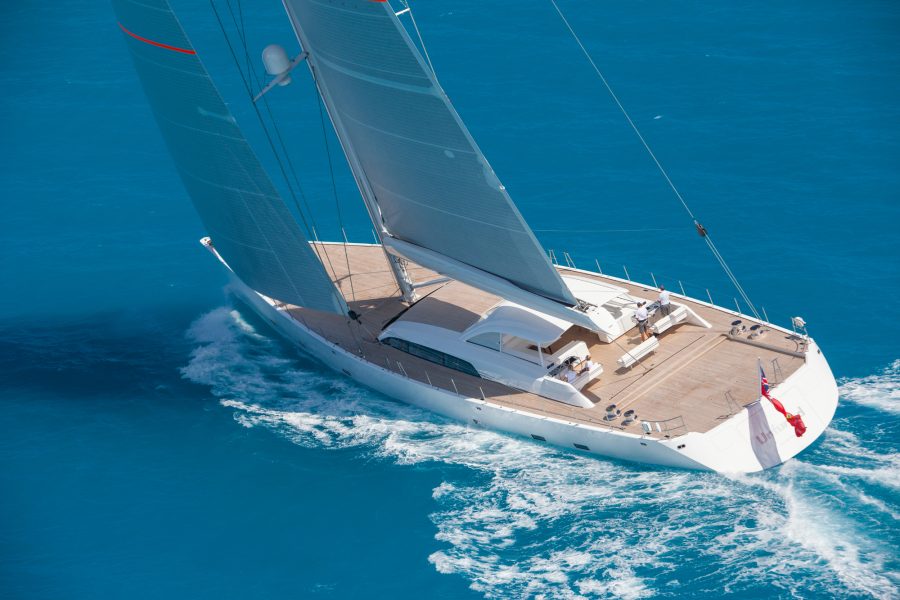 Vitters is thrilled to announce that its 46-metre high-performance aluminium sloop, Unfurled has won the 2016 St Barths Bucket.
The win is particularly exciting as this is the first St Barths Bucket Regatta the German Frers-designed sloop has competed in. Unfurled was a remarkable project to work on for the Vitters' team and carries a great number of innovative and in-house developed elements that all have been carefully engineered and built, for the ultimate clean appearance and to add to the safety of crew and guests. The yacht embodies paramount high-performance characteristics while offering the enjoyment of comfortable living onboard.
The Bucket Trophy was presented to her as the pursuit class winner which prevailed in the 'most competitive, closely contested class'.
Unfurled takes that title after a hotly-contested few days of racing by the fleet of Les Gazelles des Mers, which today saw her win the 24.3nm 'Wrong Way Around' course. The win over second-placed Visione, and third-placed Nilaya means the regatta closed with Unfurled at the top of the points table following her win on the first day of racing, and a fourth placing in yesterday's race. Fellow Vitters' projects, Inouï and Galateia finished fifth and sixth respectively in the division after three days of great racing in champagne conditions.
In Les Elegantes des Mers class, 46-metre Ganesha swooped in to take second place in today's race and second place in the series behind class-winner P2. She was followed across the line by 45-metre Lady B in third place; a performance which saw her placed fifth in her class for the series.
Les Femmes des Mers class were sent on a course of 20.08nm which gave Bella Ragazza time to overhaul members of the fleet for third place on the day, as well as securing third place for the series behind Axia and Hyperion.
Back on land, celebrations were just beginning to crown an exceptional regatta. Prize giving saw not only the fastest yachts awarded but also those which displayed that certain something extra which makes the Bucket special.
Each year, Vitters is proud to award the Vitters Seamanship Trophy to the yacht which displays the best seamanship and sportsmanship in the interest of promoting safety on the race course. This year, that yacht was Alexa of London who received the award in recognition of her crew's understanding of those qualities.
The 2016 St Barths Bucket was raced from the 16-20 March, with six Vitters projects competing for titles. The entire Vitters team congratulates those involved on another exemplary regatta.