Posted on in my vava, sri lanka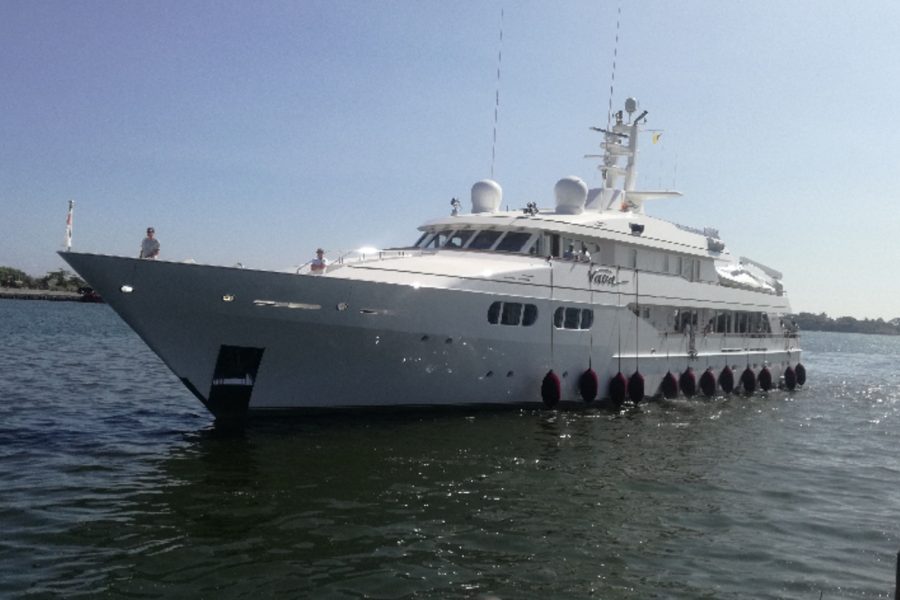 I am happy that we came to Sri Lanka as it gave the crew a great opportunity to have some very interesting time ashore in a country most of us have never visited

Captain Glen, M/Y Vava
The superyacht M.Y. Vava recently enjoyed a wonderful visit after arriving in all her glory at Port Galle in Sri Lanka, reports Priyantha Perera, heading up APS Sri Lanka. Sharing the country's attractions to visiting vessels as a new superyacht destination, the owner-agent explained Sri Lanka is an island surrounded by the Indian Ocean and filled with beautiful scenic views, boasting of high biodiversity of ocean mammals and fascinating culture.
South of the Indian subcontinent, Sri Lanka is also known as the "Teardrop of India" due to its distinctive shape and many beautiful sites and cultural practices like those found in Southern India. Adding to the mix, Priyantha explained, are unique experiences waiting to be savoured along with the main attraction of pristine uninhabited beaches and wonderful coastlines. Sri Lanka's West Coast is the country's most developed, although only sparsely, the coast is also a popular surfing destination.
The East Coast is more rough and unspoiled and the Southern Coast is known to visiting vessels as generally the best all-round destination. Here you'll find a mixture of white beaches, Buddhist temples, stilt fishermen (casting in the waves with nets while perched on stilts) and long ago colonial towns, remaining the same as in years past. Also a not-to-be missed experience is the Sri Lankan interior, thrilling with amazing wildlife viewing including elephants and at times even leopards.
Priyantha Perera loves to share his native country's attractions with arriving vessel owners, captains and crews, like the mega motor yacht Vava. He and his team were delighted to provide services for M.Y. Vava in advance and as she arrived at Sri Lanka's Port Galle.
The 47.30 meters (155'2″ ft) custom-built Vava yacht was launched in 1996 by the Dutch shipyard Feadship and features a sophisticated exterior style by De Voogt Naval Architects, the in-house design studio who was also responsible for the naval architecture and layout on board. The Robert de Nijs interior flows through the layout offering ample accommodation for guests in both style and comfort. Vava, built with a steel hull and aluminium superstructure, is an immaculately maintained, stable, superyacht with a highly-skilled yacht crew.
Upon departing Sri Lanka, Captain Glen of M.Y Vava wrote to APS Sri Lanka of their enjoyable stay: "Many thanks, Priyantha, for your kind assistance with our brief visit to Galle. I was happy with the way you managed our arrival and the formalities of entering into Sri Lanka waters and ports, which can obviously be complicated without the assistance of a knowledgeable agent. Thanks also for your assistance with all of our inquiries as it helped us to complete the simple tasks we needed to take on and also allowed us to understand a little about Sri Lankan ways. I am happy that we came to Sri Lanka as it gave the crew a great opportunity to have some very interesting time ashore in a country most of us have never visited. They all fully enjoyed the experience and I can certainly expect that some of them will likely return for visits in the future. It was a pleasure to come to visit Galle and your agency assistance allowed us to make a fluid transition into the country for which I am thankful."
Priyantha points out that Sri Lanka is a useful stop for yachts en route to the Red Sea, as well as a good point of departure for cruising the Maldives, Chagos and Seychelles.
Ports in Sri Lanka
Reporting on ports in Sri Lanka, Priyantha advises: "Whilst the northern parts of the country were out of bounds for many years, Trincomalee on the NE Coast has now opened up to cruising yachts and special permission must still be obtained before travelling to other northern states. Colombo, on the central West Coast of Sri Lanka, it should be noted, has a large commercial harbour with little provision for yachts and formalities are complex".
"Refueling and provisioning at the old port of Galle on the SW corner of Sri Lanka is straightforward and Galle Port is an arriving superyacht's best option. This is where most yachts clear-in as conditions for visiting yachts are slowly improving", he added. "Another option, the port of Trincomalee, is a military port and therefore unfamiliar with pleasure boat clearance. However, it is a port of entry and cruising boats have successfully cleared into Sri Lanka here; though delays may be possible however due to officials being more familiar with commercial vessels, thus we recommend Port Galle as the preferred superyacht port".
"An agent is required to clear into and out of Sri Lanka and basically organise everything", concluded Priyantha, noting he is happy to respond to questions and provide a custom itinerary to visiting vessels.