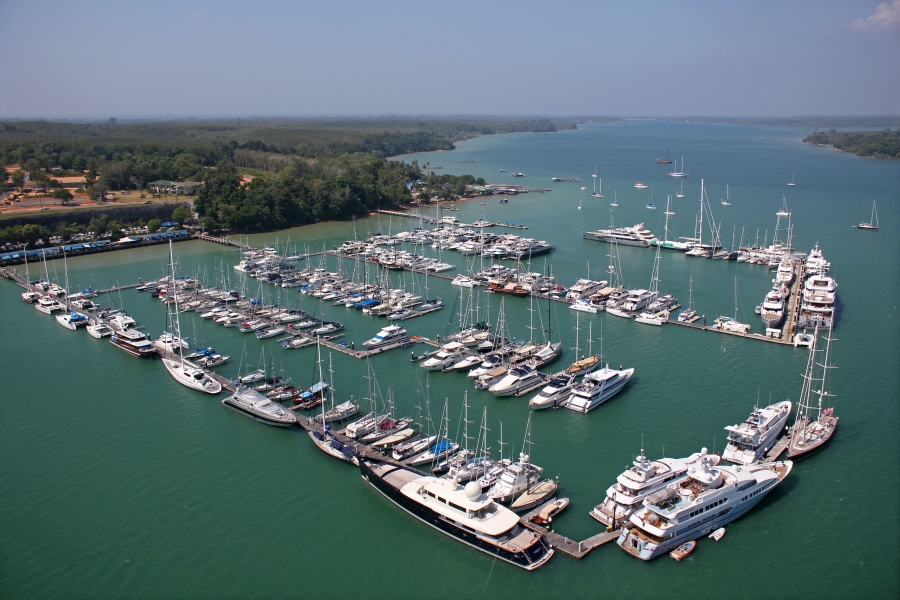 Phuket Island in Thailand is developing into a major global marina hub. Superyacht visits have been increasing exponentially over the past 15 years and last year 1,500 yachts and cruisers visited the 'Pearl of the Andaman'.
Marinas are playing an increasingly important role globally and marinas on the resort island of Phuket, Thailand can handle all the needs of a superyacht. The full-service marinas can provide berths for yachts up to 130 meters in length, a growing superyacht labour force and excellent docking facilities.
Together with the appeal of Thailand's warm hospitality, nearby cruising and beautiful white sand beaches, Phuket provides a perfect superyacht base at any one of the island's marinas.
Marinas
Four marinas, located in the Northeast of the island, are operated by private companies: Phuket Boat Lagoon can serve 173 yachts and 135 other vessels on the ground for repair work; Royal Phuket Marina – serving 76 yachts and 35 on ground; and Ao Po Grand Marina with space for 300 yachts and 100 on ground. Additionally, Phuket Yacht Haven can accommodate 300 yachts at sea only.
"Between two and three new marinas are expected to open at Ao Po, Ao Kung and Ao Makham in the future," reports Wiwat Chitchoetwong, referring to new development projects in the island. The government also plans to develop Ao Makham into a deep water superyacht facility so that Superyachts can be hauled out and maintenance can be carried out as these facilities are currently not located in Thailand.
"The successful marinas in Phuket are being looked at now as models for marinas at Surat Thani province's Koh Samui resort island in the Gulf of Thailand and Chon Buri's Pattaya on the eastern coast", added Mr Chitchoetwong.
In the high season, yachting visitors use Phuket as a base for travelling to nearby islands, while in the low season some dock their yachts at marinas so that they can carry out maintenance ready for the next high season. A number of superyacht owners have also purchased residences in the area which are used when the owners are cruising in the area.
Attractions
Phuket is a draw on to itself as it is home to both natural and man-made attractions. Its scenic beaches and water sports are a big draw while the ancient Sino-Portuguese buildings are popular among tourists fascinated by this architectural style. Always a most important asset for superyacht visitors is the genuine warmth and gracious hospitality of the Thai people.
A wide variety of Thai and international food can be found at street stalls serving delicious classic Thai food and visitors will find the finest in international 5-star dining with some Michelin starred restaurants. When dining onboard and in preparation of a cruising journey, your agent can provide provisions, offering an immense variety of fresh produce, meat and seafood, all readily available along with beverages, wine and spirits of every type.
Cruising
Just a short cruise to the outer islands away from the hustle and bustle of Phuket is a world of peace and tranquillity. "A perfect destination for superyachts, vessels can set off from one of Phuket's marinas to journey to the Phi Phi islands, Similan Islands, Racha Islands, Coral Island, Koh Yao Yai & Koh Yao Noi, Koh Khai Islands, Koh Bon and in another Thai province – Koh Phangnga", reports Asia Pacific Superyachts (APS) Phuket and Myanmar GM, Gordon Fernandes.
"Some yachting visitors choose to travel across the ocean to the Andaman Islands in India – and /or journey on to Singapore and Langkawi, Malaysia while being based in Phuket. Those travelling from Singapore find the destination sits pretty much in the centre of a passage from North to South and East to West in the region; and in Malaysia, superyachts also have the full-service Royal Langkawi Marina & Yacht Club while still viewing Phuket as the primary cruising destination".
"Though no marinas yet, there are some beautiful anchor spots when voyaging east to the third-largest island of Koh Samui in the Gulf of Thailand and nearby Ang Thong National Marine Park – a pristine archipelago of 42 islands in the Gulf of Thailand – and an option to visit Koh Chang, Bangkok, Pattaya and journey on to Cambodia", adds Captain Charlie Dwyer of APS Koh Samui.
The full-service marinas and professional yacht services along with Phuket's many attractions make for an inviting and stress-free holiday for superyacht owners and their guests – and the island is a favourite destination of captains and crew!
The upgrading of the International Airport (which can cater for any private jet and most commercial aircraft sizes including 747's), high-end villas, full-service marinas, beach clubs and 5-star hotels and dining has meant that Phuket is now a playground for the rich and famous.