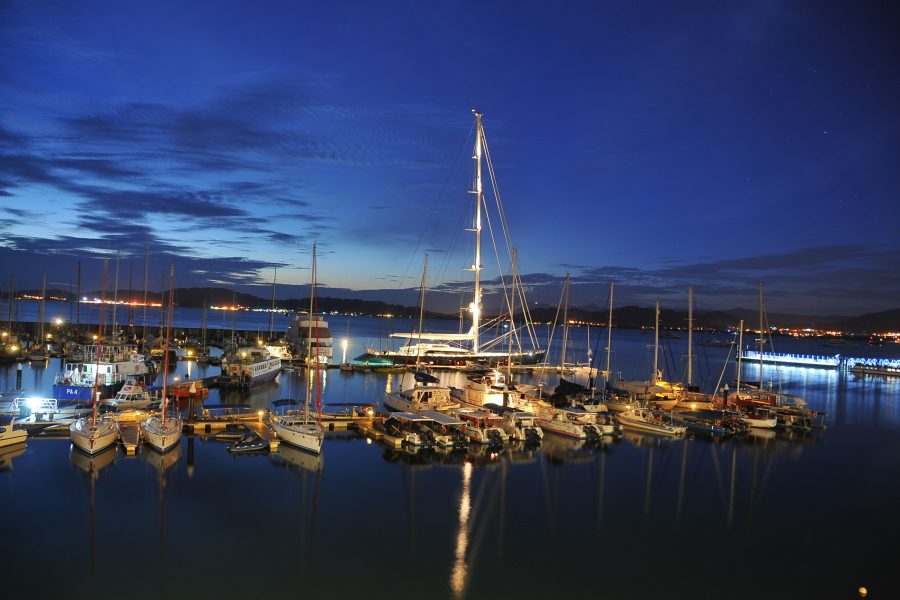 Langkawi is the largest island in an archipelago of 100 islands in the Andaman Sea and this South East Asia destination is growing in popularity as a 'Superyacht Hub'. Located off the mainland coast of Malaysia, the number of visiting superyachts making their way to Langkawi is growing as word spreads of this appealing and Duty-Free island and nearby cruising options.
Malaysia was once the centre of the spice trade with everyone coming to Malacca to pick up spices. A country of sailors and traders, it is one of the greatest countries of seafarers in the world. Once in the waters of Langkawi and moving slowly along the north-west headland and across the water, the green islands of Turatao and Koh Adang in Satun can be seen across the border in the south of Thailand, just a few kilometres away.
Langkawi offers great cruising and plenty of protected anchorages. Over the last few years the area has become an established sailing destination, attracting boats from all over the world. The island currently has four marinas and several bases with top notch facilities for yachts around the islands. Some of the marinas are part of resort developments offering all the amenities of first class resort hotels in addition to yacht services.
Highly recommended is the Royal Langkawi Yacht Club, its marina located on a large sweeping bay in Kuah with over 200 berths and full sailing facilities to use while exploring Langkawi's caves, beaches and hidden islands. The marina's close proximity to the town centre provides excellent access to duty-free shops and other business-class facilities. The berths can fit mega-yachts up to 60 meters (197 feet) long, and has a low tide depth of 3 meters (almost 10 feet).
Asia Pacific Superyachts co-founder, Captain Scott Walker, knows the area well and has been working with superyachts and vessels between Langkawi and Singapore for three decades. He believes Kuah Bay is developing into Asia's most perfect natural harbour and that Langkawi could become the 'Monaco of the Far East', "Superyacht visitors come to cruise the islands and beaches, trek through wildlife-filled rainforests and take advantage of excellent Duty Free shopping while berthed at the marina, where their vessel will receive excellent service and fresh provisions".
Langkawi is definitely has a wonderful wildlife population to be viewed, like that described in a nature walk at Malaysia's legendary The Datai Langkawi, named one of the 'World's Greatest Places' by Time Magazine. A nature specialist illustrated how a small place can provide incredible biodiversity, noting, "You might see colugos and giant geckos with bats in the background flying over the river. Flying squirrels may be seen leaping off tall trees, home to hornbills and spectacled langurs along with Asian fairy blue birds, a crimson sun bird and possibly a female white-bellied sea eagle, perched close to the resident pair's nest".
An evening dining ashore reflects Malaysia's diverse cultures and cuisines where you can enjoy a combination of gastronomic cuisine when feasting on Malay Kuth, Nasi Lemak, sushi, spring rolls, spicy fish curry, Roti Jala and a variety of noodle soups along with a distinguished wine menu.
Reflecting on the rising affluence of Asia and the fact there now more marinas for superyachts, Skipper Walker says, "Unlike Europe marinas in Asia are more about safe berthing for your vessel as opposed to being a destination in its own right".
The skipper adds: "There are now world-class marinas and accommodation in nearly every South East Asia sailing region. There's Phuket, providing hundreds of berths for everything from superyachts to small cruisers. To the south Langkawi Island is a popular winter destination with the Royal Langkawi Marina, as are the chain of facilities that run down the Malacca Straits to Kuala Lumpur, Singapore and heading east into the vast Gulf of Thailand".