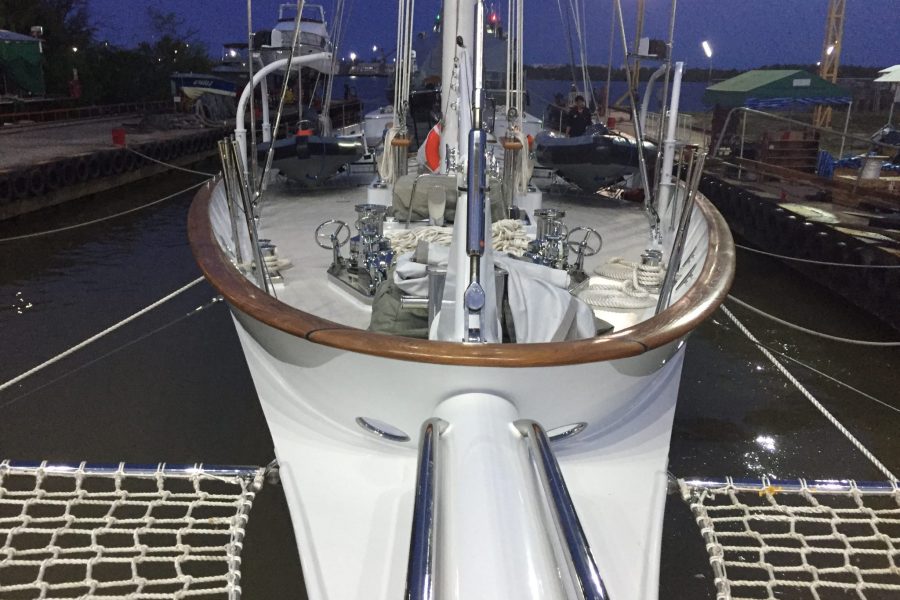 The 34.14m / 112′ custom sail training schooner 'Vela' is being launched by Marsun Public Company Ltd. in Thailand at their Samutprakan shipyard.
"We just finished sea trials aboard Vela, our new sail training vessel and sister ship to STV Argo, also built at the Marsun Shipyard. She's a beauty! Their mission is the same as Argo, circumnavigating the world with trainee crew at the helm. Argo has sailed around the world six times with trainees since her launch in 2006. And, by the way, we are sailing Vela to Singapore in about two weeks", reports Jim Stoll of Global Expeditions Group, writing to Gordon Fernandes of Asia Pacific Superyachts in Phuket.
Both Vela and Argo are two-masted Marconi rigged schooners, certified and inspected by the British Maritime and Coastguard Agency as a Category "0" vessel, allowing them unrestricted operation in the world's oceans. The schooners are operated by Sea|mester, a study abroad training program for student crew trainees.
Vela's highly functional, sophisticated yet classic design and engineering are the work of the Langan Design team from Newport USA, Travis Yates from Global Expeditions Group, and the Marsun Shipyard team, located at the mouth of the river to Bangkok.
Marsun has built over 300 vessels for various clients (VELA is hull #300) and has a highly technical engineering department allowing them to build or repair vessels like VELA as well as larger yachts. They have recently expanded their dry-docking capacity so that they can handle a variety of projects at any one time.
Stoll sent some early departure photos of Vela, noting, "As a side note, I took care of the Perini Aquarius for some years and now my friend Captain Chris Callahan has totally renewed her and will soon be leaving San Diego and coming our way, scheduled to arrive Phuket in November", adding, "Over the years we've had some fun on board at the St. Barths Bucket races as well as the last Perini Cup. After Thailand she will join the Superyacht Cup in New Zealand. And, a last note, Gordon, Chris always appreciated working with you!"