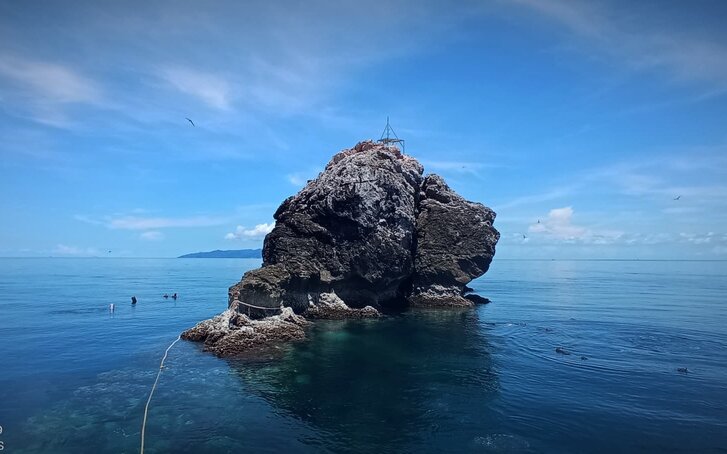 Offering golden sandy beaches, secluded bays and a scuba diving paradise, isolated Koh Tao is one of Southern Thailand's true tropical island escapes. The island is the country's #1 scuba diving destination and rests at the top of the world's most famous dive sites.
In English Koh Tao means "Turtle Island", named for the island's connection with its being inhabited by sea turtles. Though they are not as plentiful as in the past, you can still find green turtles and hawksbill turtles in some areas, such as Shark Bay and the island's shape is also thought to resemble a turtle. Koh Tao is unique both above and below the water and with its thriving diving industry, it is now one of the leading centres for dive education in the world.
Your voyage to Koh Tao starts in the hub of the Gulf of Thailand, the best and easiest port of entry, Koh Samui. The largest amongst the group of mostly uninhabited 80 islands, the island is dotted with many 5-star hotels, fine restaurants & pampering spas. The island's charm and natural beauty remains and there's some great anchorages along with an abundance of tantalizing Thai cuisine, friendly people and a flamboyantly indulgent nightlife.
Arriving in Koh Tao, a pristine sea surrounding the island contains more than 8 kilometers of coral reefs, looked after by island marine conservation sustainability groups. The 'Diving Mecca of the Gulf', Koh Tao offers the best visibility and optimum dive conditions, whether diving or snorkeling with hard and soft coral reefs, pinnacles and large pelagics (all in 24° sea water). Many divers swim with huge whale sharks that frequent the off shore pinnacles at certain times of the year.
A diverse and versatile range of dive sites suits the experience level of all divers and an itinerary can be planned for an intermediate/ advanced dive journey or a dive tour suited to a combined diving / snorkeling tour. Those interested in snorkeling and relaxing can enjoy the fantastic underwater world and pristine beaches and a diverse and versatile range of dive sites will suit the experience level of all divers.
The shallow and picturesque bays such as Mango Bay, Aow Leuk and Hin Wong are perfect for students and divers looking for relaxed and gentle diving (great for snorkelers as well). Then it's on to the intermediate dive sites such as Green Rock, White Rock and Shark Island. Finally, Chumpon Pinnacle awaits the more experienced divers. Following are recommended dive sites by dive company experts and Asia Pacific Superyachts co-founder based on Samui, Captain Charlie Dwyer.
Red Rock/ Shark Island – Max Depth 28m. All Levels of Divers. The North of the site gives shallower coral gardens to around 12m, whilst further south you reach deeper waters of around 25m and find beautiful boulder formations.
Southwest Pinnacles – Max Depth: 30m. Intermediate to Advanced. The main pinnacle lies 5m below the surface and the outer pinnacles surrounding the main rock is approx. 30m.
Twins – Max Depth: 18m. All Levels of Divers & Snorkelers. White Eyed Moray Eels and Blue Spotted Rays can be found in abundance at both pinnacles, as can Red Breasted Wrasse, Blue Ringed Angel Fish, and Banner Fish.
Mango Bay – Max Depth: 14m. All Levels of Divers & Snorkelers. This is one of the best sites for students and those divers who haven't been in the water for a while. The dive begins from the gently sloping beach and follows the line of the rock along to a maximum depth of 14m.
Aow Leuk – Max Depth: 12m. All Levels of Divers & Snorkelers. Aow Leuk is a perfect site for students and those wanting a gentle introduction. You can follow the Western wall out of the bay and find schools of Yellowtail Barracuda, paired Weavers Butterfly Fish, Christmas Tree Worms, and on return, possibly the resident turtle and many Blue Spotted Rays.
Sail Rock -Near Koh Tao. Sail Rock is considered the 5-star dive site in the Gulf, lying mid-water between Samui's neighboring Koh Phangan and Koh Tao. A granite pinnacle that rises from the sea floor at 30m to stand an impressive 15m above the surface, Sail Rock offers stunning underwater topography to explore sheer vertical walls with beautiful coral gardens and a unique vertical swim-through. Sail Rock is also home to an extraordinarily abundant variety of marine life in all shapes and sizes.
Koh Tao is an unforgettable paradise destination for dive adventurers and travelers alike, blessed with nature-infused beauty and a relaxed atmosphere and lifestyle.