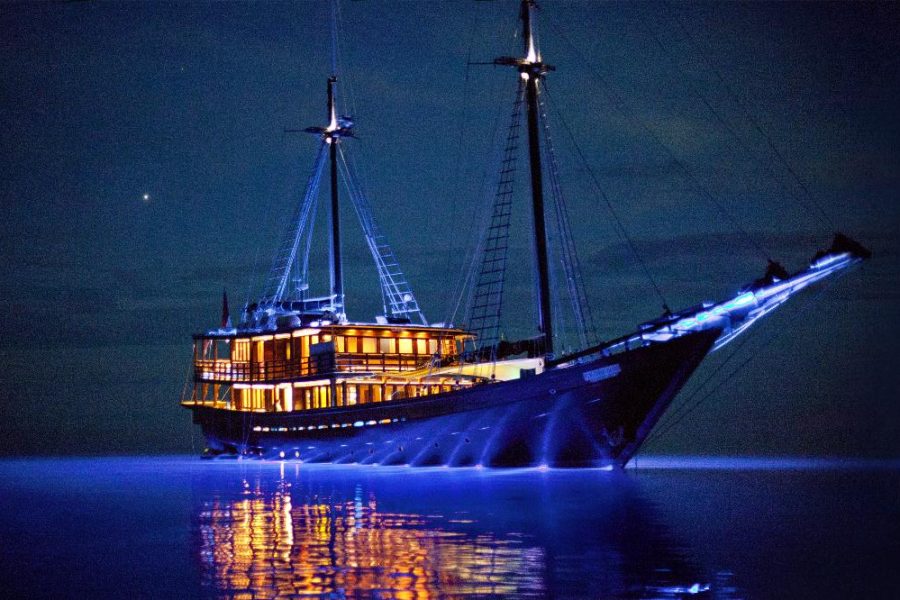 This year the 16th annual Asia Superyacht Rendezvous will kick off with a sensational opening party aboard the beautiful phinisi-style sailing yacht Dunia Baru.
Every year from December 16 to 18, the shores of Phuket welcome sail and motor superyachts to the Rendezvous from around the globe. The exclusive gathering of sail and motor superyachts is an event of charming Thai hospitality in a relaxed and sociable environment on and off the water.
Long time Rendezvous organisers Gordon Fernandes and Captain Charlie Dwyer happily share news of the opening night party: "As the organisers of the Asia Superyacht Rendezvous we are very excited that S/Y Dunia Baru has agreed to be the host yacht for this year's Asia Superyacht Rendezvous opening cocktail party. All 'Phinisi' yachts offer guests an unrivalled experience due to the space and charm of their traditional build, but the stunning Phinisi-style Dunia Baru takes this to the next level. We're very happy the invited guests will have the opportunity to view Dunia Baru in all of her glory while at anchor outside Rendezvous host hotel, SALA Resort & Spa Phuket. The evening promises to be very special and will trigger the start of the following morning superyacht sailing races, on a course marked by spectacular power yachts."
Mark Robba, owner of S/y Dunia Baru, comments: "This will be Dunia Baru's first time participating in the Asia Superyacht Rendezvous and I am really excited that we will be hosting the opening cocktail party on board. The cruising grounds around South East Asia are a superyacht owner's dream and Phuket is a wonderful place for such a prestigious global gathering of superyachts, their owners, VIP guests and crews. I'm glad we can join the Rendezvous in its celebration of yachting in this region before we make our way to Myanmar for charter and some new adventures."
Luxury charter yacht Dunia Baru is the finest yacht to ever have been built in Indonesia. She was launched in December 2013, more than seven years after construction began, and while she is traditional in style, in reality, she is anything but. This 167'3" superyacht was designed by an American architect and handbuilt in Indonesian teak and ironwood by 20 master shipwrights from Borneo's Konjo Boat Builders, with her exquisite interior and first-class marine systems completed in Bali. Her sails were made in Thailand; her rigging is from the United Kingdom and her marine systems are to ABYC (American Boat and Yacht Council) standards, ensuring unparalleled levels of service and reliability. The phinisi-style yacht may be traditional in appearance, but she is the product of passion and expertise from around the world.
Other highlights over the three days include the famed 'Rendezvous Challenge' model boat building & races with teams comprised of captains and crew (and hilarious to watch), the exciting land & sea 'Pirate's Booty' treasure hunt with teams made up of crews and families; and the VIP Gala Dinner the final evening at the event host hotel, the SALA Resort & Spa Phuket following the move from last year's event host, Kata Rocks. The stunning resort will be the event's host hotel and is outstandingly situated at Mai Khao Beach, which when combined with Nai Yang Beach to the south, is the longest stretch of sandy beach on the island, covering 9 km.
In closing, Captain Charlie said: "We're already in full swing and Gordon and I are looking forward to welcoming many new faces and superyachts to be a part of another successful Rendezvous. All yachts 75' and longer can contact us for an invitation to attend this year's Asia Superyacht Rendezvous. We are thrilled to open with a great cocktail party on board S/Y Dunia Baru and promise a wonderful time for all."