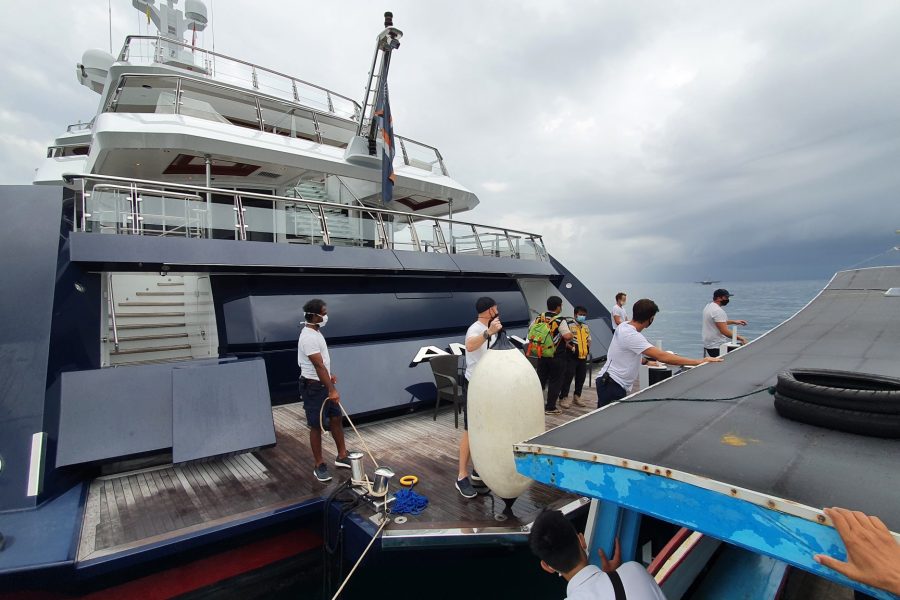 The first Singapore Airlines flight to land in Bali in nearly two years received a warm welcome February 16th, with the plane carrying the single largest number of passengers on a commercial international flight to the Indonesian island since it closed to foreign tourists in March 2020.
Bali (for yachts) was never closed and even the international airport has been open to commercial international flights since October (boat arrival has always open); however there were no scheduled international flights.
Now the news is international flights have started to schedule direct landings into Bali, hence headlines reflecting 'Bali Opening'. "We can ensure our clients are aware of the last-known situation for yacht arrivals", notes Captain Thomas Taatjes of Asia Pacific Superyachts Bali, reporting the following criteria is now established in easing the arrival of foreign-flagged yachts:
yachts can arrive direct into Bali
visa in advance of arrival and valid 6 months for all nationalities (for those fully vaccinated)
onboard crew arrival can quarantine at 4 nights
guests can fly in can go directly to the yacht 
Starting March 1, tourists who have received three COVID-19 vaccine doses will be able to quarantine for just three days. There is also news and a released timeline that quarantine coming into Indonesia will be scrapped all together in April along with Visa on Arrival facilities back open.
A government official in Indonesia says the country could lift all quarantine requirements for international arrivals from April, as the Covid-19 hospitalisation and death rates are now under control.
According to a Bloomberg report, the suggestion was made by Luhut Panjaitan, who oversees the government's pandemic response on the islands of Java and Bali. He went on to say that from next week, quarantine will be reduced from 5 days to 3 for international arrivals who've received a third vaccine dose. However, PCR testing on arrival will remain a condition of entry.
Indonesia re-opened in February 2022 and applications from yachts for the B211A visa are now welcomed. This visa is for a period of 180 days, 60 days first followed by four extensions of 30 days each time.
All crew must obtain a negative PCR test, taken 72 hours prior to departure from the last port. Your agent will handle paperwork which includes test results and the following paperwork to be given to the marina at your port of entry: copies of visas; boat registration; insurance; port clearance; stamped crew list; vessel declaration form; copies of all crew passports. Once quarantine has been completed and all crew test negatively, yachts are free to sail in Indonesian waters.