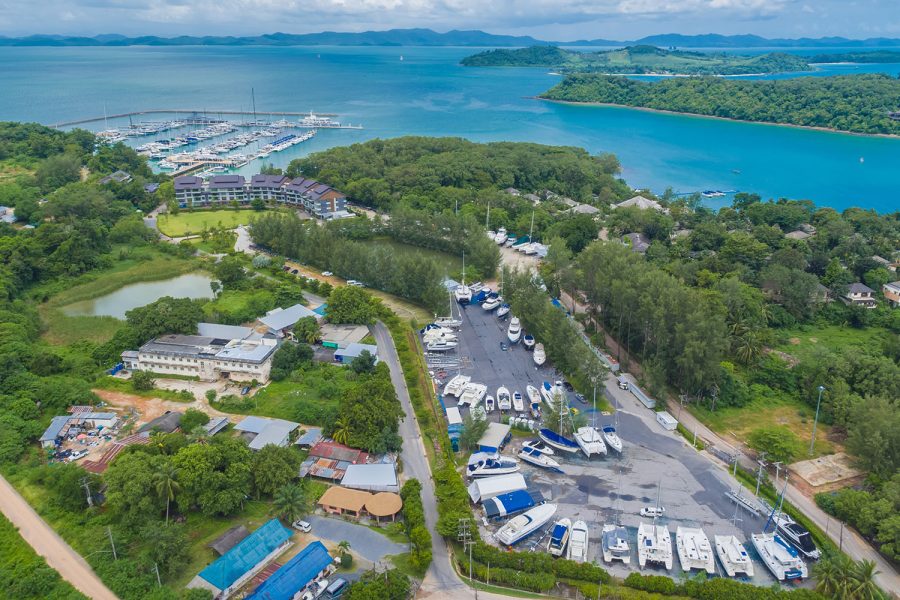 Knowledgeable Speakers from Thailand at the 2023 Southeast Asia Yachting Conference held in Singapore presented regional yachting updates on Thailand's Andaman Sea and the Gulf of Thailand, as reported by SG Marine Guide and shared by Asia Pacific Superyachts.
The President of the Thai Yachting Business Association (TYBA) and MD of Phuket Premium Marina, Ditapong Thitadilok, presented new information about the fantastic cruising grounds of Phuket and the six marinas that currently offer over 1,200 plus berths. Marinas like the beautiful Ao Po Grand Marina right near Phang Nga Bay, containing 300 berths which are larger than usual with spacious 4.6m wide walkways along the docks, accommodating yachts of 100+ meters.
The speaker revealed, "New facilities are coming online and these include the PSY shipyard that will be able to cater for superyachts up to 65m, and lifting facilities for yachts up to 64m LOA, as well as a new superyacht marina Port Macchanu that is currently in construction".
Thitadilok talked about the new superyacht charter license for yachts over 30m, that now allow foreign flag yachts to be able to stay in Thailand for up to two and a half years. TYBA, founded in 2014 can trace its roots back to the late 90's and the Marine Alliance of Thailand, MAT, instrumental in the removal of import duties on new yachts in 2004, providing a huge boost for yachting in Thailand. Upcoming events announced include the Thailand Charter Week, a B2B charter event, to be held 16-19 November at the Yacht Haven Marina and the Thailand International Boat Show at the Royal Phuket Marina to be held 11-14 January 2024.
Scott Finsten, the Harbour Master at Ocean Marina, Jomtien, then talked about the east coast of Thailand. Finsten, an Australian marina expert moved to Thailand in 2010 to manage the Ocean Marina Yacht Club and marina in the Gulf of Thailand and since then two phases of expansion have been implemented. First, increasing the marina from 200 berths to 380; and then dredging the marina basin to accommodate superyachts and increasing the haul out capacity with the acquisition of a 75-ton Marine Travelift. With over 450 modern berths, providing safe anchorage for yachts up to 75m and is Southeast Asia's largest marina.
Finsten outlined entry and exit procedures and changes that have been implemented post Covid. He noted there are excellent cruising grounds on the east coast of Thailand which include Koh Chang, Koh Mak and Koh Kood (Nov to Apr) and Koh Samui, Koh Phangnan, Koh Tao, and Ang Thong (Mar to Sept). Finsten said he believes that this is a potential growth area, with its 43 beautiful islands in the Pattaya region, and the yacht marina's proximity to Bangkok.
Yachting and marina news from Phuket and the Gulf of Siam was well received and it was recognised Thailand is once again enjoying a surging popularity from worldwide superyachts.