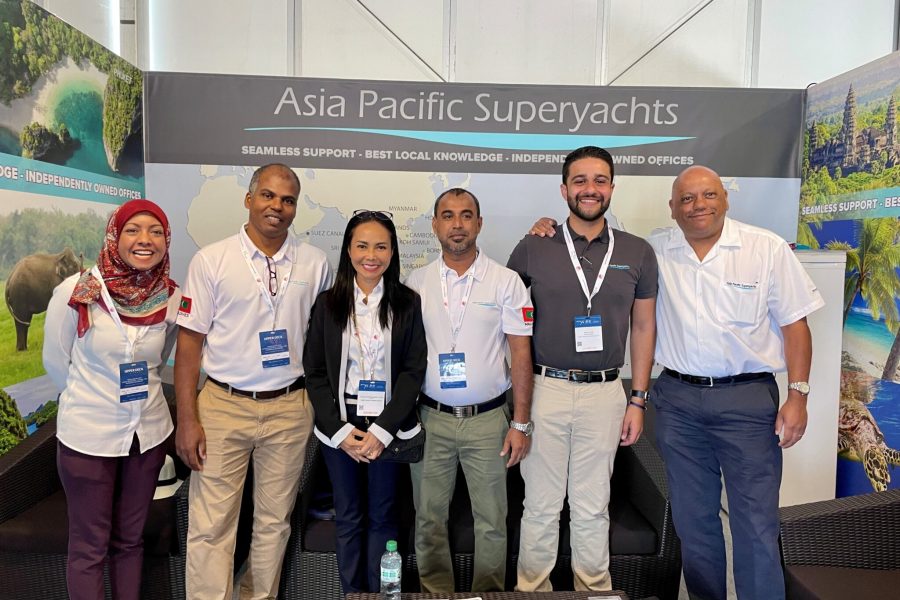 Asia Pacific Superyachts (APS) is returning to yachting's flagship event, the 32rd international meeting of the superyacht sector's Monaco Yacht Show to be held September 27th to 30th, 2023, bringing a wide representation of dream destination cruising in the Asia Pacific region.
"Meet us at the 2022 Monaco Yacht Show! A must-attend for private owners and new clients seeking a unique immersive experience in the yachting world", enthused Gordon Fernandes, co-founders of APS, adding, "Recurring themes from the last Monaco show were that yachts are getting bigger, and owners are getting more adventurous in where they want to cruise. Talking to owners, we found many are bored with the normal 'milk run' and want to use their floating home to cruise into more exotic destinations, with some looking to do a world cruise."
"South, South East and Eastern Asia regions are gaining in interest and importance to the global superyacht community, now considered to be one of the world's three main cruising regions. It is important to us have our knowledgeable teams in place to meet face-to-face and provide answers directly about cruising destinations and new regulations and destinations", said APS co-founder Captain Charlie Dwyer: "We are proud of our reputation in offering streamlined arrival and departure modes, representing an extension of the close cooperation between APS agents and local government and marine authorities". The network of APS owner-agents will once again have the latest updates of cruising Asia Pacific for superyacht owners, captains, charter specialists, managers and other industry professionals
Increasing demand has led to key expansion in Southeast Asia, bringing about the addition of Seychelles to the APS Network, whose management is excited to share key news in Monaco: "Superyacht agencies have been working closely with government officials over the past decade to bring about important and necessary changes for luxury vessels to visit Asia Pacific, supporting visiting international vessels with changing regulations for easier entry and longer stays", reports APS Seychelles Manager Director, Christophe Houareau. "When arriving in the Seychelles, Captains can be assured of a seamless entry to Eden Island Marina, a dedicated superyacht facility, with the typical arrival process itself taking as little as half an hour for a vessel to be cleared in with no visas required to enter the Seychelles (provided all documents are in order)", explains APS Seychelles GM, Peter Alvis.
APS Maldives Director, Mohamed Hameed adds, "We very much look forward to welcoming visitors to the APS Stand and all of our Asia Pacific teams will bring timely information and new developments of superyacht dream destinations to the Monaco Yacht Show."